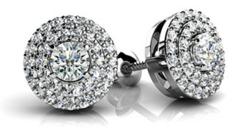 San Diego, CA (PRWEB) September 29, 2011
Online jeweler Anjolee offers a large variety of diamond stud earring designs on their website including many new designs.Customers have the unique ability to customize any jewelry design according to their preferences. A selection of new diamond hoop earrings, stud earrings, gemstone earrings and drop designs are now available in choice of metal type, diamond quality, and from many sizes. The option to add third party certificates to any order is also available.
The selection of diamond earrings was recently expanded with the addition of the 'Surrounded By Diamonds Designer Stud Earrings' Style number ST970 and the 'Perfect Petals Diamond Stud Earrings' Style number ST975. Both of these new jewelry designs are more intricate than the standard classic prong set stud, instead featuring a cluster of diamonds per stud, with a unique pattern or shape. These new earring styles are considered a "designer diamond stud" due to the more elaborate shape and because they contain many smaller diamonds. They are considered a fashionable alternative to the classic earring styles.
Anjolee also modified many of their most popular classic stud designs to include gemstones. The current gemstone offering includes blue sapphire, garnet, peridot, amethyst, blue topaz and citrine. One of the most popular styles this season is the 'Circled Gemstone Diamond Stud Earrings' style number ST976-Gem which combine the beauty of gemstones with diamonds. The gemstone is surrounded by a circle of smaller diamonds, which adds to the sparkle and makes this an elegant earring choice.
Certifying a diamond stud order has never been easier; Anjolee offers a standard certificate of authenticity for all diamond jewelry orders and the ability to add a third party certificate to any order. Customers can simply check the checkbox during the customization process next to "Add an IGI Certificate to your diamond jewelry order". The fee for the third party certificate is shown in the calculation of the total price.
For more information about diamond stud earrings, please visit http://www.anjolee.com.
###