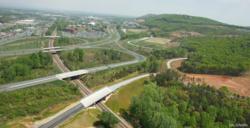 Lynchburg, VA (PRWEB) September 29, 2011
The Virginia Tobacco Commission today announced approval for a $12 million grant for Liberty University to establish a school of osteopathic medicine and an expanded health sciences school.
"Liberty University is deeply grateful for the Tobacco Commission's unanimous support for our new School of Health Sciences," said Chancellor and President Jerry Falwell, Jr. "I agree with the Executive Director, Neal Noyes, that this school will have a transformative impact on Southside Virginia's Tobacco District. I also believe that the new School of Health Sciences and medical school will become core to the fulfillment of the mission of the university."
Liberty will match the grant under the terms of the agreement. The schools could open by fall 2013.
The new facilities would cost nearly $40 million and would be located in Campbell County near the intersection of US-460 and US-29 near the Lynchburg Airport.
Falwell said the program could provide hundreds of jobs to economically depressed Southside Virginia communities. Medical students would use their required Christian and Community Service (CSER) hours to assist Southside residents in need of healthcare.
Liberty would offer students of the new schools who live in areas which qualify for tobacco indemnification a 5-percent tuition discount as part of its agreement with the tobacco commission.
The new school would train doctors of osteopathic medicine, nurse practitioners and physicians' assistants. It would also offer a variety of associate degrees in the medical field.
Liberty's grant is the second largest grant ever authorized to a medical school by the commission.
# # #