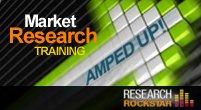 For busy professionals who want to achieve success with online surveys and other online research techniques, our course offers an ideal mix of online convenience and real-time instructor attention
Marlborough, MA (PRWEB) September 29, 2011
Research Rockstar announces the debut of its four-week eLearning course, "Online Market Research Techniques for Customer Insights: A 4-Week eLearning Boot Camp." This eLearning course covers online surveys and other online methods for understanding customer attutudes, behaviors and needs.
Each week's real-time, 90-minute online class covers essential elements of market research design. Participating from the convenience of home or office, students have direct access to the instructor, participate in interactive quizzes, and receive downloadable checklists and reference material along with a playback link to each class for review as desired. Each class includes time for Q&A.
"For busy professionals who want to achieve success with online surveys and other online research techniques, our course offers an ideal mix of online convenience and real-time instructor attention," says instructor Kathryn Korostoff, "and the up-to-the-minute techniques and best practices covered will be useful whether you're new to market research, or are more experienced and want to refresh your skills." Expect no-nonsense, easy to understand material, free of fluff. Clear instructions will guide students through best practices that they can put into action.
Course modules include:
Week 1: The 10 point checklist for questionnaire design
Week 2: Ask it right: Introduction to questionnaire scales and answer option selection
Week 3: How to package and deliver market research results for maximum impact
Week 4: Fast research: New approaches to gaining customer insights quickly
Korostoff adds, "Each student gets a private, 30 minute instructor call per week. In past online courses, I have found that students often want to discuss how to apply the lessons to their own projects, which may be confidential." The student-instructor calls are included in the course fee; no extra fees apply.
After completing Module 4 successfully, students are awarded a certificate documenting their achievement.
eLearning Course Schedule
Online Market Research Techniques for Customer Insights will begin Tuesday, October 25, at 1 PM and continue on November 1, 8 and 15. Student-instructor calls will be scheduled upon registration.
ABOUT YOUR INSTRUCTOR
Kathryn Korostoff, founder of Research Rockstar, is a noted market research expert. She frequently speaks at industry events including the recent 2011 American Marketing Association (AMA) Strategy Summit, various other AMA and Marketing Research Association (MRA) events, and was a keynote speaker at the recent AMAI conference in Mexico City.
Korostoff has over twenty years of market research experience and has personally directed over 600 projects. She is also the author of, "How to Hire & Manage Market Research Agencies," available on Amazon in paperback and Kindle editions.
To register for the course, contact Sales(at)ResearchRockstar(dot)com or click here for online registration. Tuition is $679.00, with a $100.00 discount for preregistration before October 11. For further information, please contact Sales(at)ResearchRockstar(dot)com.
###