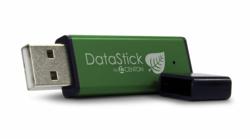 "[This] partnership has contributed the ability for ChariTREE to plant more than 50,000 trees across Canada!"
(PRWEB) September 30, 2011
Centon Electronics, Inc., in partnership with ChariTREE Foundation and Staples Canada, is helping to plant a tree with every DataStick Green USB flash drive sold. From January to the end of August 2011, Centon is pleased to announce that the partnership has contributed the ability for ChariTREE to plant more than 50,000 trees across Canada!
The effect of one single tree is staggering. Over 50 years, it can equal $31,250 of oxygen, provide $62,000 worth of air pollution control and recycle $37,500 worth of water. Trees also help against the erosion of land, clean toxins from soil and water, offset carbon emissions and provide food and habitats for animals and people. Staples Canada takes pride in supporting a number of environmental initiatives, as well as providing approximately 2,700 environmentally responsible products in our mix. Centon wants to make it easy for our customers to contribute to sustainability by not only offering products that are safe for the environment, but also recycling solutions that are both time and cost efficient. Centon Electronics can all do good things for its environment, and still enjoy the same great quality that everyone has come to expect from Staples and Centon.
To learn more about Staples commitment to the environment, please visit http://staples.ca/environment
Centon Electronics, Inc., in addition to the Green drive, will continue their efforts in implementing "green" practices in daily operations. Centon hopes that these eco-conscious decisions will show how easy it is for businesses and resellers to do their part in growing a better tomorrow!
DataStick Green Features:

One tree is planted with every purchase
Environmentally friendly aluminum casing
Product and packaging made with 100% recyclable materials
Plug and Play USB Flash Storage
Works with Windows and Mac
Lifetime Warranty
About Centon Electronics, Inc.
Established in 1978 as a distributor of electronic components, Centon Electronics is a manufacturer and designer of DRAM and Flash based products. Serving the consumer, channel and system builder markets, Centon offers a wide selection of products guaranteed to meet your needs. Please visit http://www.centon.com for more information.
###