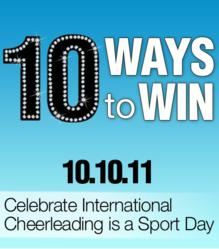 Today's cheerleader is the ultimate athlete. No other sport requires you to lift other athletes, perform gymnastics skills, jump and dance all within two minutes and thirty seconds
Reading, Pennsylvania (PRWEB) September 29, 2011
For the second year in a row, GK Elite Sportswear, L.P., a manufacturer of Cheerleading Uniforms known for innovation in apparel fit and design, will celebrate International Cheerleading Is A Sport Day on October 10, 2011. GK recognizes over 400,000 athletes involved in the sport of competitive cheerleading.
According to Tara Cain, owner of Maryland Twisters All-Star Cheerleading Gym, "Today's cheerleader is the ultimate athlete. No other sport requires you to lift other athletes, perform gymnastics skills, jump and dance all within two minutes and thirty seconds." She continues, "Cheerleaders must utilize every muscle in their body to master those physical skills. They sprint like a track runner, push like a football player, and reach like a basketball star. Cheerleaders are agile, fit and strong. Those who think Cheerleading is not a serious sport have never done it."
As part of the celebration, GK Elite Sportswear has announced the 10 Ways to Win Contest. Fans of GK – Cheer can win GK Cheerleading Practice Wear for their Cheerleading Team by posting any of ten options to the 10 Ways to Win Contest Facebook event wall between September 20, 2011 and October 10, 2011. See http://www.facebook.com/gkcheer for additional information on the contest.
ABOUT GK – ELITE SPORTSWEAR, L.P.
GK-Elite Sportswear is the world's leading supplier of gymnastics apparel and is recognized around the world for superior variety, quality, fit and service. Based in Reading, Pennsylvania, Elite Sportswear, L.P., the company behind the GK brand, continues its commitment to American-made quality and continuous innovation in designs for Gymnastics, Cheerleading, and Dance apparel.
###