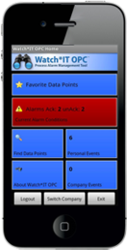 start displaying data and tends in about five minutes
Syracuse, NY (PRWEB) September 30, 2011
Remote Process Alarms, LLC have just added two Watch*IT OPC mobile apps that interact with their Watch*IT OPC line of products. The new Android and iPhone apps along with the previously released app for BlackBerry® mean Watch*IT OPC is now available on the world's top three mobile platforms. The Watch*IT OPC Mobile Apps are for use with Enterprise and Express with Mobile editions of Watch*IT OPC and are available free of charge.
The Mobile OPC Clients for Watch*IT OPC are apps that are more than just useful, they are value added products. They allow managers, operators, and system administrator alike to monitor various control systems right from their smartphones and tablets. Whether it is an HVAC system or a DCS, these new apps will let you know when there are system alarms, and let you see current trends. They can even alert you of problems before they have an impact on your facility or production floor. Having these apps on personal mobile devices allow operators and system administrators to receive notifications about system alarms and view trends from various control systems remotely. Meanwhile, managers have an instant view of what is happening even while they are in meetings.
The Watch*IT OPC Mobile products are easy to install, easy to use and affordably priced. You can download and use as many mobile apps as needed without any additional charges. It is so easy to use that in about five minutes, you can download the fully functional, free trial version of Watch*IT OPC Express and a mobile app and start receiving alarms and trends.
ABOUT REMOTE PROCESS ALARMS, LLC.
Remote Process Alarms, LLC (RPA) is a provider of process automation system monitoring software and services. RPA is dedicated to delivering manufacturing data to the new wireless platforms and technology that allows users to get real-time process data and alarms from DCS, SCADA, HVAC, BMS, BAS, PLC, and other similar systems. The RPA team has served commercial and industrial customers with discretion for over 15 years and is an OPC Foundation Member. Remote Process Alarms is the maker of the Watch*IT OPC line of products designed to collect and monitor manufacturing data via OPC systems.
For more information, please feel free to call us at 1-800-380-9772 or visit our website at http://www.watchitopc.com
###