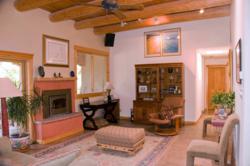 Natural Homes will celebrate the advent of the affordable Zero Energy Home
Santa Fe, NM (PRWEB) September 30, 2011
Over the last three years, with the support and encouragement of the American Recovery and Reinvestment Act, new equipment and techniques have made it possible to build a reasonably priced "Zero Energy Home". Natural Homes will celebrate the advent of the affordable Zero Energy Home, at a Question and Answer Open House. Four other companies that provide equipment needed to build a Zero Energy Home will show how to create these homes at a price a working family can afford. Available to provide information and answer questions one on one will be:
Alan Hoffman of Natural Homes providing real estate services and Solar Home design.
Dennis Neidermier of Renaissance Builders providing "Build Green New Mexico" certified Homes.
David Rogers and Maria Hondros of Bright Solutions LED Lighting Inc, providers of super efficient lighting solutions.
Robert Althouse of Solar Wise USA, provider of Thermal Solar equipment and repairs.
John Gwynn of Bella Solar, provider of Solar Electric Equipment and instillation.
On Sunday October 23rd 2011 at 700 Coyote Ridge Road, 2.7 miles west of St Francis Drive on West Alameda, anyone interested in how to create or renovate a home to Zero Energy are invited to attend an open house with these professionals. From 1:00 to 5:00 pm learn what Zero Energy means and how to build a house with a net annual energy bill of around zero. Learn how to get tax credits of as much as $25,000 for the construction of a certified Zero Energy Home with prices for a three bedroom home starting at $279,000 including lot.
Natural Homes is raising the question, "if we can build an affordable Zero Energy Home, why isn't every builder building them?"
Zero Energy Lifestyle
Now take the next step to a Zero Energy Lifestyle. It is now possible to load the cost for energy and transportation into today's mortgage with the lowest interest rate in decades. By over sizing the Solar Electric array on a Zero Energy Home, enough extra electricity can be generated and stored in the grid for a plug-in electric car to be charged every night for free. There are a number of plug-in cars on the market today and Ford is coming out with the plug-in Escape SUV in 2012. The answers to tomorrow's energy problems are here today thanks in part to the American Recovery and Reinvestment Act; we just require the will to make America great again.
For more information call Alan Hoffman at 505 316 0449 or email at Village(at)NewVillage(dot)com.
###