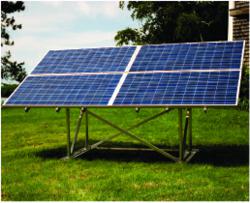 Harpswell, Maine (PRWEB) September 30, 2011
Powered by over three decades of solar power expertise and a New England sensibility for creating technology that simply works, a midcoast Maine company is building and installing pre-assembled solar panel arrays as the smart power source for homes, vacation properties and businesses.
QuickWatts, LLC has developed three ground-mounted systems that offer significant advantages over roof mounted systems and offer the owners something that's been hard to find in earlier generation solar power systems—simplicity.
"All the homeowner needs to do is to have a simple upgrade made to their existing power panel, then plug our ground mount system into it to start saving up to 30% on their energy bills with clean, reliable energy from the sun", says QuickWatts partner Dennis Denio. "Adding solar power to your home can't be much easier than that."
In addition to being easy to use, QuickWatts ground-mounted systems have significant advantages over roof mounted solar panels. These include accessibility, portability, exposure and aesthetics.
"One thing people don't often consider is how well solar energy systems work in winter, as long as they aren't covered with snow.", notes QuickWatts partner Jim Sulham. "One of the beauties of our systems is that after a snowfall, they are easy to get to. Just brush off the snow and they go right back to work."
QuickWatts builds and installs three complete systems, each tailored to their customer's energy needs.
The Grid-Tied System ties into a home's power panel to provide up to 30% of the electrical power needed to keep the home up and running. Some work by a licensed electrician and a visit by the power company to install a Netmeter are required in advance.
Their Off-Grid System is a modular energy powerhouse capable of running a home or office.
Portable Trailer Mounted System Available in Grid-Tied or Off-Grid, the QuickWatts portable system lets customers take their energy system on the road and is ideal for vacation property and home use.
QuickWatts base systems provide over 1 kW of power and can be easily configured to add more solar arrays (panels) either from the beginning or somewhere down the road. A monitoring system available for every QuickWatts system displays total energy generated, individual solar module performance and the historical pattern of energy generated.
"The best news of all is how affordable our power systems are after credits and rebates are factored in." says, Dennis. "Most Mainers can purchase a system from us for only $3500 after rebates and credits. That's a pretty affordable way to draw clean, reliable power and hedge against future energy costs."
Most New England states also offer incentives or rebates, and QuickWatts can install their systems anywhere throughout the region.
For more information, visit QuickWatts online at http://www.QuickWatts.net, e-mail them at quickwatts(at)gmail(dot)com or call 207-729-0241.
###