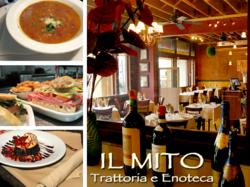 I have designed my menu to offer guests unparalleled flavors, infused with nutritional ingredients...
Milwaukee, WI (PRWEB) September 29, 2011
For many people, time and money hinder their ability to maintain a healthy diet. Chef Michael Feker of IL MITO Enoteca in Milwaukee, has designed his new seasonal lunch menu to combat this misconception. Instead of eating on the go, in the car or at a desk, Chef Feker advocates taking 30 minutes to escape the chaos of the day, enjoy some peace and relaxing over a healthy meal. All pastas, entrees, paninis and pizzas range in price from only 10 to 12 dollars, and include guest's choice of homemade, heartwarming soup of the day or mixed greens with Feker's secret white balsamic dressing. This unbelievable value allows guests of all income levels to indulge and treat themselves to a midday restful retreat.
"An order of french fries at a fast food restaurant average 500 calories. All of my panini entrees at lunch are served with my homemade eggplant fries, which have under 200 calories, and they are an amazing source of fiber, folic acid, potassium and manganese," revealed Feker. "I have designed my menu to offer my guests unparalleled flavors, infused with nutritional ingredients to nourish not only their culinary soul, but their body as well."
Highlights of Feker's new lunch menu, which is also available in a Gluten-Free format, at IL MITO, include: chicken, spinach and artichoke stuffed manicotti; handmade sweet potato ravioli complemented by a sage cream sauce; a vegetarian pizza with grilled eggplant, roasted tomatoes, caramelized onions, olives, peppers, fresh Wisconsin cheese and fresh arugula; a slow braised pulled pork panini; fire-roasted bell pepper salad accompanied by grilled beefsteak tomatoes, shaved red onion, fresh oregano and locally-crafted feta cheese.
About Chef Feker and IL MITO
Chef Michael Feker offers an exclusive Chef's Counter where he hosts private dinners/cooking demonstrations, corporate team-building events, monthly gourmet food flights with beer and wine tastings, as well as private lessons for individuals or couples. To learn more about upcoming events and other culinary opportunities, explore ILMITOcooking.com
IL MITO is located in Wauwatosa at 6913 W. North Avenue. LUNCH is served Tuesday through Saturday 11am to 2pm; Sunday BRUNCH with Bloody Mary Bar 10am to 2pm; DINNER: Tuesday through Thursday 5 to10pm, Friday and Saturday 5pm to 11pm and Sunday 5pm to 9pm. IL MITO also offers full-service CATERING, private dinners, carry out and deliveries.
Reservations can be made online at ILMITO.com or by calling 414-443-1414.
Keep up to date on Twitter and Facebook at: http://twitter.com/cheffeker and http://www.facebook.com/pages/IL-MITO-ENOTECA/10304511
###