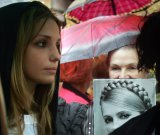 "The court will soon announce its verdict. Seven years, as they want, or seventy or seven hundred…to them, it's all the same."
(PRWEB) September 29, 2011
Eugenia Carr, daughter of Ukrainian opposition leader Yulia Tymoshenko has written a heartfelt letter to her mother available to read on Democracy4us.org. In the letter she tells her mother that she has become a "symbol of struggle." Foreseeing the end of her mother's three-month show trial, she says, "The court will soon announce its verdict. Seven years, as they want, or seventy or seven hundred…to them, it's all the same."
Yulia Tymoshenko's trial began on 24 June, 2011. On 5 August, she was arrested and detained in custody at the Lukyanovsky detention facility on the outskirts of Kyiv for allegedly disrespecting the court.
In the letter to her mother, Ms Carr writes, "First of all, I know that you're not guilty... Everyone in the courtroom, all the journalists, the diplomats, all the people who have been sleeping in tents on Khreshchatyk [the main street in downtown Kyiv] for the past two months, and millions of other people in Ukraine who are watching this farce…know this."
The former premier is charged with exceeding her authority when she was prime minister and causing damage to the state of UAH 1.5 billion ($190 million), by issuing instructions to sign a gas agreement with Russia in 2009. The agreement ended a damaging standoff with Russia which saw gas supplies disrupted to EU states. At the time, Ms Tymoshenko was praised widely for resolving the dispute and removing from the gas trade the controversial intermediary company RosUkrEnergo – believed to be a major source of corruption in Ukrainian politics. The gas agreement transitioned Ukraine to European market prices for gas with a 20% discount. The prosecution alleges that Ms Tymoshenko signed the instructions authorizing signature of the agreement without approval of the Cabinet of Ministers. Ms Tymoshenko says that she was authorized to sign the instructions in her capacity as prime minister and there was no wrongdoing.
Ms Tymoshenko is being prosecuted for an alleged "economic crime" under a Soviet-era criminal code. The trial has been condemned widely as politically motivated. EU officials have warned President Viktor Yanukovych that imprisoning Ms Tymoshenko and other opposition leaders is likely to prevent member states ratifying a wide ranging free trade agreement as part of the EU-Ukraine Association Agreement, which is due to be finalized later this year. So far, President Yanukovych seems to be ignoring advice given to him by EU and US officials to release Ms Tymoshenko and other members of her government and allow them to participate in political life.
The trial of Ms Tymoshenko has been deeply flawed. Earlier this week the prosecution called for Ms Tymoshenko to be given a sentence of 7 years and to be barred from public office for three years and face a hefty fine. This statement was made despite the trial not being over.
Not disguising her feelings, Ms Carr said, "I'm not asking the court for mercy because I know that you don't need mercy from them. I'm not asking for leniency because I know that you were right and don't need leniency. I am not appealing to conscience and honor, because for some in this courtroom those are foreign concepts."
She finished her letter by saying, "I just want you to know, mum, that regardless of what happens in this courtroom, what happens in this world and on this Earth – the truth will always prevail. Truth and goodness will prevail."
###