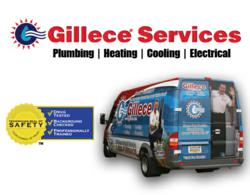 Pittsburgh, PA (PRWEB) September 30, 2011
Gillece Services' company commitments to drug-testing, background-checking, and training has earned Gillece Services, including each and every Gillece Services Technician, the official Technician Seal of Safety.™ This yellow and blue mark, when bestowed upon a Technician, indicates Gillece's dedication to protecting the safety and well-being of Pittsburgh customers and customers' homes, families and loved ones.
Often, customers are women at home alone, women at home with small children during the day, elderly homeowners – possibly disabled individuals – generally, people who are extra concerned about personal safety and the security of their home and their belongings. A company like Gillece that identifies their employees with the Technician Seal of Safety Mark advocates the use of pre-employment background checks and drug testing as allowed by law. Some contractors in the home services business do not bother to practice such stringent policies. With the Technician Seal of Safety Mark, the customer knows they are dealing with a professional who cares about personal safety, the safety of family, and the well-being and security of a household.
Gillece Services Technicians are carefully considered employees that share a commitment to delivering quality service in the most positive and most ethical manner. Before becoming employed with Gillece Services, each Gillece Services Technician must pass intensive drug testing and thorough background checks, including a medical hair analysis and clearance. Every Gillece Services Technician commits to and abides by the Gillece Services Code of Ethics. And, each Gillece Services Technician is thoroughly trained, cross-trained, and skill-certified in Plumbing, Heating, Cooling and Electric services.
Gillece Services continues to be a reputable team of trusted Technicians upon which Pittsburgh can rely. Customers rest easy knowing problems are solved by an expert and that the home, family and property are treated with the utmost regard. From shoe covers and drop cloths to clean-up and customer service, Gillece Services Technicians are safe, caring, competent, courteous and friendly Plumbers, HVAC Heating and Cooling Techs and Electricians. Customers are guaranteed worry-free service in the heart of the home with every phone call, every service and every Technician. Each and every Gillece Service Technician has an official Technician Seal of Safety Identification Card. Therefore, each and every Pittsburgh customer continues to be safe and sound with Gillece Services and Gillece Technicians.
Gillece Services is the Pittsburgh area's one-stop shop for home repair and improvement. Our trusted services include all of your Plumbing, Heating, Cooling, Electrical, Indoor Air Quality, and Water Conditioning needs – emergency, maintenance and replacement. We're "There The Same Day or You Don't Pay!"* and "Always Here to Take Your Call!"
###