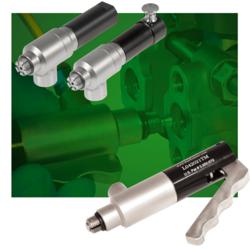 Minneapolis, MN (PRWEB) September 30, 2011
FasTest announces FasMate FN-Series connectors provide quick, easy connections to threaded ports, delivering fast results in diverse applications. Used in pressure and vacuum testing, filling, flushing and performance testing, these connectors feature easy actuation and a split collet design to create instantaneous connections, eliminating the need for thread sealant and wrench tightening and preventing costly port thread damage and unnecessary downtime.
The FN-Series provides versatile connectors, capable of performing three styles of actuation: squeeze lever, pneumatic pilot and pneumatic thumb valve.
-Squeeze Lever: Provides simple, straightforward operation
-Pneumatic Thumb Valve: Contains an easy, ergonomic thumb button that allows insertion or removal of the connector from the port when depressed
-Pneumatic Pilot: Requires a separate air valve, and is ideal for applications that require technicians' hands to have freedom of movement
The FN-Series enables instant connections to female threaded ports, providing improved sealing and reliability over the legacy FasMate T-Series cam lever connectors. The new FN Series provides many additional features and benefits for enhanced performance and durability. Constructed of stainless steel wetted parts, anodized top housing and rated for pressures up to 5,000 psi, the series delivers reliable performance with a long life span, even in demanding applications. To provide increased application compatibility, the connectors offer an extensive threaded port sealing range of 1/8-inch to 1/2-inch NPT, as well as SAE, BSPP and Metric sizes.
For enhanced safety and reliability, FN connectors are equipped with pressure-assisted sealing technology, which securely locks them to the port, eliminating any risk of separation. The lever design has no pin and linkage, which are susceptible to failures. By utilizing an innovative internal seal, these connectors enable simple, in-the-field repairs—requiring only common tooling. Plus, their extended front housing offers an ideal solution for applications with spacing confines.
Manufactured in the United States, FN-Series is a cost-effective solution for a broad array of applications.
For additional information, including contact information for lead reports, contact FasTest's publicist: Jaclyn Larson (Next Communications). Phone: 952-934-8220. Email: jaclynl(at)nextcom(dot)com.
FasTest is a dedicated manufacturer of productivity and high quality improvement connection tools for pressure, flow and vacuum testing applications. FasTest's complete line of specialty connectors are designed to provide leak-tight, reliable connections for calibration and other industrial manufacturing applications. Custom leak test capabilities are available for unusual or unique requirements.
For additional FasTest products or information, contact:
1-800-444-2373 • http://www.fastestinc.com • fastsales(at)fastestinc(dot)com
###