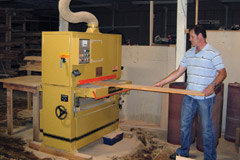 Consultant Steve Everett, an expert woodcrafter, has a proven track record of sales success in the bunk bed market.
Sandown, NH (PRWEB) September 30, 2011
1-800-BunkBed, LLC, is proud to announce that they have contracted with Steve Everett of North Carolina to consult with their independent business owners. Steve, who is an active 1-800-Bunkbed LLC independent owner himself, has a proven track record of sales success in the bunk bed market. He has agreed to work with business owners to help increase their sales as well as to aid them in developing successful marketing strategies. Also an excellent woodcrafter himself, he will also assist the owners with questions concerning the building of the beds. Everett, while living overseas in Germany, was mentored by German master furniture makers for over 10 years. He uses this skill to help the owners make quality furniture not found in department stores today.
"We are fortunate to have such a knowledgeable craftsman and successful marketing professional to help our owners succeed in their own right," says Jim Rees, 1-800-BunkBed's president and founder. "His energy, enthusiasm, and willingness to help any way he can are a great asset to our customers."
Information about 1-800-Bunkbed LLC:
1-800-Bunkbed provides a low-cost opportunity for people to run their own nationally recognized bunk bed business right from their own home or shop. As a proven woodworking business opportunity with over 16 years of flawless customer service 1-800-Bunkbed makes it easy for anyone to run their own home woodworking business and enjoy financial independence.
To learn more about this home woodworking business opportunity please visit http://www.1800bunkbed.com
###