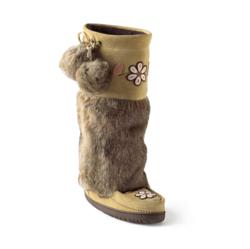 We often forget how many great things are envisioned, and even made entirely right here [in Canada]
Winnipeg, MB (PRWEB) September 30, 2011
When Darren Barefoot announced his intention to spend a year working towards consuming nothing but Canadian products, food and media, some might have thought he was crazy. However, now nearly 10 months into this endeavor and successful so far, he is receiving praise from Canadians.
"Mr. Barefoot's initiative should be an example for all Canadians," said Marileen Bartlett of Aboriginal-owned Canadian Made Mukluks. "We often forget how many great things are envisioned, and even made entirely right here at home."
For other Canadians looking to follow Barefoot's example, one choice is Mukluk boots. Authentic mukluks have been made by Aboriginal people in the far north for thousands of years; they are made with a variety of different materials that can include deerskin leather and rabbit fur.
The One Year One Canadian project will wrap up in December, and Barefoot plans to write a book about his experience in 2012. For consumers who wish to try their hand at buying Canadian, they can check out Canadian Made Mukluks.
Contact:
Marileen Bartlett
Canadian Made Mukluks
(204) 791-8550
marileenbartlett(at)gmail(dot)com
###