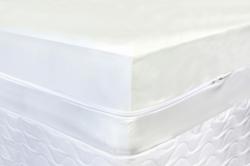 An important part of a successful control program includes the use of high quality mattress and box spring covers such as those available from Mattress Safe.

- Paul J. Bello - Certified Entomologist

PJB Pest Management Consulting, LLC
Atlanta, Georgia (PRWEB) September 29, 2011
DDT was once an effective pesticide used in treatment of bed bugs and other pests. The harmful effects of DDT forced it to be banned and other less harmful pesticides have taken its place. Bed bugs have become resistant to these less harmful pesticides requiring more chemical treatments to be used.
Since mattresses and box springs are a major harborage for bed bugs, eco-friendly solutions are being sought to avoid the health concerns associated with chemical treatments.
In an effort to reduce health effects, alternative treatments such as heat abatement, cold treatment, vacuuming, steam, or physical isolation methods such as mattress encasements are being used. Using a Mattress Safe® bed bug certified mattress encasement is a safe, health conscious, environmentally friendly method of bed bug control.
Bed bug certified mattress and box spring encasements from Mattress Safe® are effective at eliminating 70% of bed bug hiding spots. In addition to reducing hiding spots, Mattress Safe® encasements are tested to be bite proof, penetration proof, and escape proof, offering the ability to use and reclaim the mattresses and furniture during and after completion of a thorough pest management program. Many Pest control companies will use mattress and furniture encasements in conjunction with regular pesticide control methods.
In addition to mattress and box spring encasements, Mattress Safe® also provides pillow and furniture encasements as well as luggage protectors and laundry bags so to prevent bringing these pests home during travel. These products provide a chemical-free, environmentally friendly alternative to the treatment of bed bugs.
To learn more about the eco-friendly products available mentioned above, please visit http://www.mattresssafe.com or call 1.888.405.5335.
###