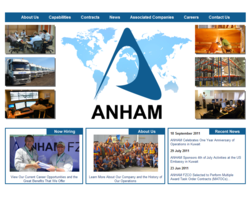 ANHAM's website is now more consistent with the quality, strength and reach of our contracting solutions.
Vienna, VA (PRWEB) September 30, 2011
ANHAM FZCO ("ANHAM"), a leading contracting firm specializing in projects in the Middle East and Northern Africa ("MENA") region, today announces the launch of an updated, refreshed website, http://www.anham.com, reinforcing the Company's values, integrity, and expansive scope of services.
The improved website delivers a global representation true to ANHAM's identity, capacity, and strategy. Its enhanced content and design will engage visitors across the globe and allow them to experience an intuitive, consistent navigation, and a clean visual feel while learning about ANHAM and its services.
On the launch of the redesigned website, ANHAM's Managing Director, David Braus, said: "This is a critical step for the future of our company. As our Company grows in size and capability so should our visual representation." He added, "ANHAM's website is now more consistent with the quality, strength and reach of our contracting solutions."
Powered by Knowlogy Corporation, the new online experience paints a clear picture of ANHAM's services and strategy, creating a valuable source of information for users worldwide. Users may now easily navigate through ANHAM's history, capabilities and areas of performance, and read about news on its contracts and rewarding careers.
"We are proud of this new and attractive web presence. The content and design lends a better feel to what is currently happening at ANHAM," said Hassan Judeh, ANHAM's Director of Administration. He added, "This global presence is a true investment in our future and conveys our character at its best."
About ANHAM FZCO
ANHAM FZCO (http://www.anham.com) is a leading contracting firm working throughout the Middle East and North Africa ("MENA"), Central Asia, and Europe. With a century's worth of experience between its principal founding companies, ANHAM is able to efficiently, effectively, and affordably deliver products and services throughout the world. Headquartered in Dubai, UAE, ANHAM has international offices that specialize in providing local support and services to its initiatives, projects, and investments across diverse regions of the globe.
About Knowlogy Corporation
Knowlogy Corporation (http://www.knowlogy.com), a Microsoft Learning Partner, Cisco Associate Learning Partner and CompTIA Authorized Partner, has been delivering premier learning solutions for corporate and government organizations since 1986. Knowlogy's growth and experience have propelled them from a local training company to a global provider of learning solutions, IT consulting and procurement services. Knowlogy has remained at the top of its industry by using the most current technologies from flagship vendors.
Media contact:
ANHAM
Thomas Kish
703-448-3777
thomas(dot)kish(at)anham(dot)com
###