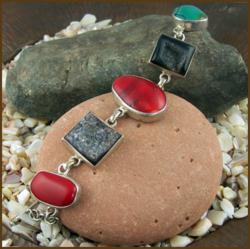 Live in style wearing artisan handcrafted sterling silver jewelry and handwoven cashmere from Nepal.
Chandler, AZ (PRWEB) September 30, 2011
To make way for exciting new inventory for the holidays, the foremost online source for unique sterling silver jewelry, KVS Pasal, is offering 50% off on selected jewelry items in its "End of Season Sale."
"The sale extends to sterling silver chains, cuffs, bracelets, necklaces and earrings," says Victoria Vacala, the owner of the company. "Many of the pieces on sales are set with unusual stones that comes from all over the world, including India, China, and particularly Bali, where the pearl, shell, sponge coral, mother of pearl and abalone are found."
Jewelry and unique cashmere textiles are available at http://www.KVSPasal.com and in various boutiques. These items are hand-crafted by artisans in Nepal and are created especially for women who love unique craftsmanship at reasonable prices. Place your order online and email or call with any questions.
Quality and aberration has been the concentration of KVS Pasal given the firm launched in 2006. Victoria Vacala, owners of the company, says "KVS Pasal functions delicately with the artisans in Nepal to pattern valuables that is of the upmost high quality and strives for designs that make a statement.
###