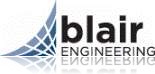 Blair is technical, responsive, and have a personal relationship selling excellence that makes them an ideal partner to promote Reell
Saint Paul, MN (PRWEB) September 30, 2011
Reell Precision Manufacturing, a world leader in small package position control is pleased to announce a partnership with Blair Engineering to market it's patented friction hinge products and technology.
Founded in 1965, Blair Engineering is the premier manufacturers rep organization for high-quality mechanical components in the southern United States. With offices in Dallas and Atlanta, Blair covers the southern United States from Texas to Florida. Supporting their strong focus on technical sales, all of their representatives have engineering degrees.
Reell VP of Global Marketing Jack Field really likes their technical expertise and regional focus, "Reell is very happy that Blair Engineering has joined the sales and marketing team, they will be our sales representative throughout the Southern United States. Blair offers Reell a strong selling capability to OEM customers. They are technical, responsive and have a personal relationship selling excellence that makes them an ideal partner to promote Reell products and technology."
Reell Precision Manufacturing provides high-quality innovative solutions to transmit torque, control angular position and protect delicate components from excessive force. Combining the worlds most precisely controlled torque technology with the industry's most experienced engineering team provides a perfect product fit in customer applications. Reell's patented technology is widely used in the consumer electronics, automotive, office automation, and medical industries.
Follow Reell on twitter: @reell
###