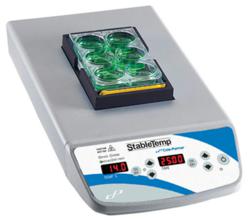 Vernon Hills, IL (PRWEB) September 30, 2011
Cole-Parmer StableTemp Modular Block Heaters offer laboratory professionals the flexibility to heat different sizes of microtubes, centrifuge tubes, vials, microplates, and PCR strips or tubes. They are designed to handle the incubation and activation of cultures, enzyme reactions, immunoassays, melting/boiling points, and a variety of other laboratory procedures.
Each digital or analog heater accepts the more than 40 interchangeable heating blocks which accommodate sample enclosures. Digital Dry Block Heaters offer exceptional temperature uniformity and feature a proportional integrative derivative (PID) controller. PID control allows users to select a specific temperature, enables rapid sample heat-up, and provides excellent stability to maintain results. Analog Dry Block Heaters are economical, high-wattage, constant temperature heaters ideal for many general chemistry applications. Adjust temperatures on the analog model by rotating the two temperature adjustment knobs with ten dial markings.
For more information about the modular block heaters and the interchangeable heating blocks, call 800-323-4340 or visit ColeParmer.com/18781.
Cole-Parmer has been a leading global source of laboratory and industrial fluid handling products, instrumentation, equipment, and supplies since 1955. Our product lines, including popular brand names such as Masterflex®, Oakton®, and more, are sold through company-owned customer channel outlets and a strong network of international dealers. We also feature an ISO-17025-accredited metrology lab for instrument calibration and repair. Cole-Parmer responds with excellence to customer needs, and offers application expertise and technical support. For more information, contact Cole-Parmer, 625 East Bunker Court, Vernon Hills, IL 60061. In the US, call 800-323-4340. International customers, call 847-549-7600. Visit us at http://www.coleparmer.com.
# # #