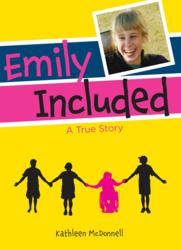 The Supreme Court's decision is considered to be a breakthrough in the movement towards inclusive education for physically and mentally challenged people
Toronto, Ontario (PRWEB) September 30, 2011
Emily Included is the inspiring David and Goliath story of Emily Eaton, a girl born with severe cerebral palsy who took on the education system and won. Told from Emily's point of view, author Kathleen McDonnell recounts how after attending regular classes at her school until grade three, she fought for inclusion when officials decided she would be "better off" in a segregated learning environment away from non-disabled children. In the late nineties, Emily and her parents championed the right of all disabled children to attend regular schools by challenging their local Board of Education. Eventually, Emily's case reached the Supreme Court of Canada, which made the landmark decision that integrating children with disabilities into regular classrooms should be the norm, not the exception.
The Supreme Court's decision is considered to be a breakthrough in the movement towards inclusive education for physically and mentally challenged people in Canada. In 2007, Canada became one of 149 signatory nations of the UN Convention on the Rights of Persons with Disabilities, which calls for "opportunities for appropriate and inclusive education for students with disabilities." But resources and funding remain major roadblocks to facilitating these rights in the classroom today.
Emily Eaton's fight against segregation practices surrounding children with disabilities was groundbreaking. After her win, she continued to prove skeptics wrong by graduating from high school. She has proven herself a role model for children everywhere, disabled or not. There is still much work to be done for disability rights, but Canadians can thank Emily and her supporters for their courage and vision.
###