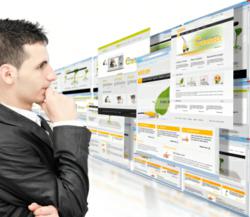 "The point to realize is that your customers are talking about you and your prospects are listening."
Portsmouth, NH (PRWEB) September 30, 2011
Predictable Profits founder and marketing expert, Charles Gaudet announced to millions of business owners that just having a website isn't enough. He mentioned that whether you have a website or not, you have an online reputation and it's imperative to your marketing strategy that it's managed correctly.
"Ignoring your online reputation can devastate a local business. Nowadays, if people want to know whether or not to do business with you, they jump on sites like Google Reviews, Yelp, OpenTable, Epinions and any number of other review sites," Gaudet. "The point to realize is that your customers are talking about you and your prospects are listening."
Gaudet suggests that, as part of their on-going marketing strategy, business owners should regularly search their company name to see what other people are saying about them. Perhaps you might have a plethora of great reviews or there may be some negative comments that could be costing you some sales.
In fact, according to a survey conducted by the Opinion Research Corporation, 84% of American say online reviews influence their purchase decisions.
"The internet is a very potent sales and marketing tool that can either make you or break you. In the past, companies used to be able to control the information that was sent to you; however, in today's ever connected society, anybody can post up a review, blog comment, tweet or facebook comment that can instantly be seen by hundreds (if not thousands) of your prospective clients," Gaudet says.
Gaudet continues: "Today's buyers spend a lot of time looking online and reading reviews before making a purchase. This means that a single negative review could either cost you the business or, on the contrary, a positive review could drive more business to you and away from your competition."
Search engine ranking, the quality and quantity of reviews and the comments that the community is providing you with all makes a difference in positioning your company as a dominate force in your market. Encourage your best customers to write reviews for your company and be sure to listen to any complaints for ways you can improve your business.
"Online reputation is really where the rubber meets the road for a lot of businesses and those companies that focus on delivering an exceptional customer experience will reap massive rewards from their happy customers," states Gaudet.
Using Google's free "Google Alert" can automatically inform you of when your business is mentioned in a review, blog or online publication as well as many review sites give business owners the option of receiving an email when a review is posted.
Interested entrepreneurs and small business owners wanting to learn more about becoming a leading business in their community can visit PredictableProfits.com and take advantage of the free expert information and a complimentary e-newsletter.
ABOUT CHARLES GAUDET: Gaudet is widely regarded as a marketing expert for consistently delivering windfalls of profits to his clients by unveiling opportunities that have been previously under-utilized or have gone unnoticed. Gaudet has traveled much of the world studying from business, political and social leaders studying entrepreneurial, marketing and business excellence. He is the founder of Predictable Profits (a Division of Managed Marketing LLC).
ABOUT PREDICTABLE PROFITS: Predictable Profits is a leading small business marketing company. The company specializes in finding overlooked marketing opportunities commonly found in most small-to-medium sized businesses and customizing actionable marketing strategies for increasing a company's profits. You can read more about Predictable Profits by visiting the company's website at http://www.PredictableProfits.com.
###