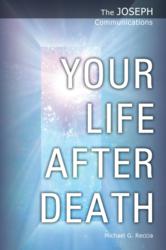 For many, this book will take away their fear of death in a no-nonsense, non-religious, contemporary way.
Burnley, Lancashire (PRWEB) September 30, 2011
What happens after we die? Is there a heaven or hell? Any afterlife at all? Religion and philosophy have tried to answer these questions throughout the ages. Author Michael G. Reccia says his new book, "The Joseph Communications: Your Life After Death", answers these questions and more, calling it the "definitive guide to the afterlife". However, he admits he didn't actually write it. Rather, he "channeled" the text of the book from an ancient, highly evolved spirit called Joseph, who has lived "behind the veil" in an enlightened sphere of reality for thousands of years—and wants to share his wisdom from beyond.
The ostensible author, Michael G. Reccia, is a respected trance medium who has served the international community professionally for over twenty-five years. When Joseph speaks through Reccia, his faculties are taken over, he enters a trance state, and has little to no recollection of the content he spoke while in the trance. The communications recorded in the book take place in the context of a small group of other mediums, and are audio recorded and transcribed.
The communications from Joseph go beyond a medium bringing messages back from loved ones. Although Reccia began his career with such clairvoyance sessions and found some satisfaction in being able to bring comfort to friends and family of the deceased through this work, he found himself seeking a deeper spiritual wisdom that could positively impact his own life, and the life of his clients. And shortly thereafter, he met Joseph.
"Joseph wishes to enlighten mankind as to their spiritual origins, their capabilities, and what lies ahead for them after physical death," says Reccia. "Joseph's motivation in dictating this book through me is to remove fear, to reconnect the individual with their spiritual (as opposed to religious) heritage and potential, and to shed light on the inevitable journey they must one day make, showing them that there is nothing whatsoever to be afraid of."
"For many, this book will take away their fear of death in a no-nonsense, non-religious, contemporary way," continues Reccia. "It explains what happens before, during and immediately after physical death then chronicles the glorious experiences, processes and opportunities that follow, and the amazing environments that lie ahead as the soul progresses. Those who have lost someone will also find great comfort and reassurance in 'Your Life After Death'," concludes the author.
"Your Life After Death" communicates contemporary, non-denominational, yet highly spiritual, insights that make a vital difference to the individual and to the world. Serious spiritual seekers as well as the simply curious will find that Joseph's guide to the afterlife will answer many important questions and serve as an essential source of comfort and inspiration.
"The Joseph Communications: Your Life After Death" is available in paperback from the author's website, http://www.josephspeaks.com, and as an e-book through several popular online retailers, including Amazon.com and the Apple iBookstore.
Full details of the Joseph Communications, plus video clips and interviews with the author can be found at http://www.josephspeaks.com.
###