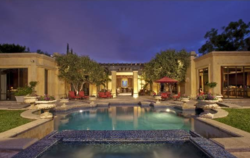 Los Angeles, CA (PRWEB) September 30, 2011
Cardone Enterprises Inc., announced today that New York Times bestselling author and sales training expert Grant Cardone will star in an upcoming episode of "Selling LA" on HGTV on October 13 at 10:00pm EST/PST. Mr. Cardone brings an eye-opening perspective to the show on what sellers have to do in the Los Angeles real estate market, sharing his power of persuasion and insights into closing the deal on his $18 million pad.
On the segment, two of LA's top real estate agents, Rayni Romito and Branden Williams bring potential buyers to Mr. Cardone's trophy property in an exclusive celebrity enclave atop the Hollywood Hills. If the duo succeeds there's a commission in it for them of approximately $1 million. If they are unable to bring in the right buyer and a price that'll justify Mr. Cardone giving up panoramic views that extend from the downtown skyline to the beaches of Malibu on an unheard of 3/4 acre property, then he is going to stay.
"Watch me show celebrity real estate hotshots that selling a one of a kind home is NEVER about price or the economy or any of the popular beliefs pervading the market," said Grant Cardone. "A rich person won't buy my home, a billionaire will! These people are not effected by market conditions like most and they don't make decisions based on price. They buy what they want and a million dollars one way or the other won't stop them."
"It was a huge honor to have worked with Grant on this episode," said Hilton and Hyland agent, Branden Williams. "His entrepreneurial spirit and passion for the art of the sale have heightened my own level of motivation and I consider Grant to be one of the most creative minds working in business today."
Grant Cardone
Since the 2008 financial crisis Grant Cardone has been a regular on Fox News, CNBC and NBC discussing pressing economic issues. In June of 2011, Mr. Cardone produced and starred in the reality TV show, 'TurnAround King,' going to struggling companies to salvage them by providing practical business acumen and a road map to enable them to turn their businesses around.
Media inquiries:
FredTanaka
310-777-0255
fred(at)grantcardone.com
###