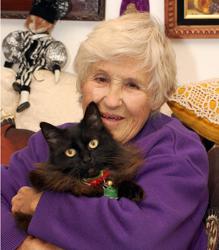 We are asking our community for donations of canned cat food to keep up with demand.
Novato, CA (PRWEB) September 29, 2011
The Marin Humane Society is experiencing a 20 percent increase in requests for pet food assistance this September—most notably for canned cat food—from low-income seniors, people living with HIV/AIDS, and those receiving hospice services. Society SHARE (Special Human-Animal Relationships) volunteers regularly deliver donated pet food to more than 350 companion animals in Marin, but critically low supplies of canned cat food are affecting program capacity to assist an increasing number of clients with cats. Donations may be delivered to the Marin Humane Society shelter lobby (171 Bel Marin Keys Blvd., Novato).
"We've seen requests for pet food and supplies rise steadily over the last several years as our troubled economy has put a strain on seniors and others on a fixed income," says Darlene Blackman, Community Programs Manager. "We are asking our generous community for donations of canned cat food so that we can keep up with this particularly popular demand."
The Marin Humane Society's SHARE program provides a lifeline for more than 220 low-income people and their pets in times of need. Assistance is offered in the form of pet food, veterinary care, home visits, and emergency boarding for pets in the event of hospitalization of the client.
Clients like 98-year-old Missy are grateful for the assistance they have received from the Marin Humane Society SHARE program. Living on a fixed income has made it challenging to make ends meet, and the cost of cat litter and food was stretching Missy's budget thin. Since reaching out to MHS, Missy has been receiving regular deliveries of free cat food and litter. Being able to provide for her animal companion who gives her so much joy has made a world of difference to Missy, who can't imagine life without her animal companion.
Says Blackman, "The bond between people and pets is strong, which is why the Marin Humane Society is so committed to a program that is helping to keep good friends together."
###