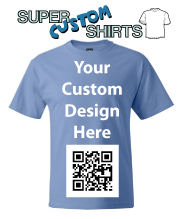 SuperCustomShirts.com is using T-Shirts to put websites in the hands of consumers
San Diego, CA (PRWEB) September 30, 2011
SuperCustomShirts.com a San Diego based custom printing and embroidery business, this week launched an innovative website combining a custom QR Code generator with a fun and easy to use custom T-Shirt design tool. As the first website to combine these fun and powerful technologies in a platform that is easy enough for anyone to use, SuperCustomShirts.com is using T-Shirts to put websites in the hands of consumers.
More Americans own Smartphones than hold a bachelor's degree or speak another language in their homes, according to a recent Pew Internet Project report.
In a telephone survey, 83% of respondents said that they owned a cellphone of some kind and 35% of the 2,277 U.S. adults questioned in English or Spanish said that they owned a smartphone.
Not surprisingly, wealthy, well-educated and young respondents all had high levels of smartphone ownership. African-Americans and Latinos in the survey were also more likely to own smartphones than whites. But just about everyone who owned a smartphone was likely to use that phone to access the Internet.
Nine in 10 smartphone owners (87%) used their phones as Internet portals — about 78% of them did so every day. Nearly a third of smartphone owners use their device as their primary Internet connection.
What are QR Codes?
QR Codes, short for "quick response codes" are a type of barcode that can store up to 4,296 alpha-numeric characters (letters and numbers). These little square black and white pixel pattern boxes have popped up every where. While QR Codes have been around for nearly two decades, they have only recently gained traction as smart phones have given average people the ability to scan and interact with the technology.
How does the system work?
The most popular use of QR Codes is to configure them to point at a website. A QR Code generator will instantly create your custom QR Code. Then simply drag and drop that QR Code to the desktop on your computer. Then, simply use the t-shirt design tool at SuperCustomShirts.com to add that image to T-Shirts, Hats, Stickers, Banners or pretty much anything you want.
QR Codes: Innovative Uses
Creating QR Codes is easy. However, it is critical to have a well planned strategy for what a person will do after the code is scaned. Here are some ideas.
Daily deals: Put up a webpage to feature a daily deal. Then it is easy to change the deal that is featured on that page daily, giving people a great reason to scan the code everyday to find out what deal is being offered. The key here is to make sure that the URL / address of the webpage stays the same so that the same QR Code can be used everyday.
QR Code T-Shirts: Put a QR Code on a T-Shirt, then simply post a new blog, video or link to something new and interesting each day on a blog, Facebook page or YouTube channel.
Retail Businesses: Imagine, every employee in a store wearing something with a QR Code printed on it. This gives customers a reason to approach the staff and engage with them. When the customer scans the QR Code they see the deal of the day, or a commercial for a featured product, or more information on a great new program. The opportunities are endless.
Contest sign ups: Contests are a popular and successful mechanism for consumer engagement. Using QR Codes to point people to the contest sign up page is a great way to increase participation.
QR Codes for Restaurants: By using the contest sign up idea above it is easy to collect mobile phone numbers and email addresses... then that collected database of customers can be used for additional marketing such as texting and emailing specials to drive customers.
Be a Thought Leader: Consultants often seek to be seen as a Thought Leader in their industry. QR Codes pointing to a blog can be incorporated into any marketing for any industry. By consistently providing an insightful thought of the day, professionals can build a reputation and following as an expert.
Custom QR Codes
Custom QR Codes are a simple, fun and effective mechanism for introducing online strategies to online consumers.
http://www.SuperCustomShirts.com is the creation of father and son team Ronald and David Hall. Ron has been in the custom printing and embroidery business for nearly 40 years. David has extensive Search Engine Optimization and Online Marketing experience.
# # #