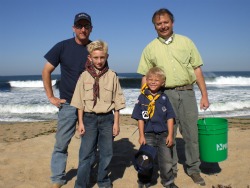 The majority of litter comes from humans not only littering, but from over-flowing trash cans and trash trucks that lose trash out the back of the truck.
Santa Cruz, California (PRWEB) September 30, 2011
Save Our Shores is hosting a Beach Cleanup in Monterey, California. On October 8th, 2011, the cleanup will be held at Zmudowski State Beach. Volunteer check-in will be located in the parking area at the end of Giberson Road and Zmudowski State Park. Save Our Shores will provide all of the cleanup supplies but they encourage you to bring your own gardening gloves and reusable bag or bucket. There will also be a cleanup on October 15th, 2011. That beach cleanup will be held in Santa Cruz at Panther Beach near Davenport, CA.
Volunteers for the beach cleanup days will be documenting the specifics of trash collected such as cataloging how many plastic bags, plastic bottles, cigarette butts, bottle caps, etc., are collected. This information is recorded and documented by Save Our Shores, and is then used to discover trends and advocate for change.
We contacted and spoke to Colleen Bednarz, Media Contact for Advocacy and Campaigns at Save Our Shores, and we asked what trash items are collected the most often and without hesitation, Colleen replied, "cigarette butts." In just three hours, on 9/17/11, at the beaches and inland waterways in Santa Cruz and Monterey Counties, volunteers picked up over 23,000 cigarette butts. World wide, the population annually discards about 4.3 trillion cigarette butts.
The work Save Our Shores cleanup volunteers do is important work as within an hour of contact with water, cigarette butts can begin leaching chemicals such as cadmium, lead and arsenic into the marine environment, which also means they end up in in the intestines of our sea creatures like fish, whales, birds and other marine animals. Another reason to quit smoking!
The next most popular trash item picked up at the Beach Cleanups are broken pieces of plastic and plastic bags. Eighty percent of the plastic picked up by volunteers comes from trash and litter dropped on the ground, while the other 20% washes in from the oceans from cruise ships and boaters. Colleen said that, "The majority of litter comes from humans not only littering, but from over-flowing trash cans and trash trucks that lose trash out the back of the truck. What happens is the trash rolls into the storm drains, flows out through our rivers and streams, and eventually makes it out to the ocean, where it washes back up on shore."
To a sea turtle, a floating plastic bag looks like a jellyfish, and broken pieces of plastic pellets look like fish eggs to seabirds. Drifting plastic bags entangle birds, fish and mammals, making it difficult, if not impossible to move or eat. As our consumption of plastic mounts, so does the degree of danger to our marine life. To date, the volunteers from Save Our Shores have removed over 27,000 plastic bags from their local beaches and rivers.
To name just a few of the accomplishments Save Our Shores has tackled this year, with the help of their volunteers and the data they collect on their Beach Cleanups, are placement of strategically placed stainless steel cigarette receptacles along local beaches, successful plastic bag bans throughout the state of California, successful bans of polystyrene (Styrofoam), and the preservation of Marine Protected Areas in California.
Save Our Shores supports eco-friendly businesses like Custom Earth Promo's. C.E.P. promotes the use of reusable grocery bags and reusable shopping bags by selling wholesale, customized bags; branded and reusable products to retailers that want to stop handing out plastic bags at check-out. Sales are on the rise in areas that are located in where plastic bag bans are already in effect. Retailers can either sell the custom made reusable bags to customers for $1.00, or give them away for free, all the while promoting their own brand and saving our environment from adding more plastic to our landfills and oceans.
Custom Earth Promo's not only sells eco-friendly reusable bags, but also items such as stainless steel water bottles and promotional items made of seed paper. According to Cory Epstein, co-founder of Custom Earth Promos, "Sales of wholesale, custom, reusable shopping bags have increased significantly in areas where plastic bags have been banned. Businesses are starting to get the message and distribution of reusable bags has proved a great way to spread their brand in an earth friendly way communities support."
If you can not make the Beach Cleanup this October 8th in Monterey or the Santa Cruz Beach Cleanup on October 15th, there are a few ways you can support Save Our Shores from afar. You can donate, become a steward, and help educate people in your own community about the different ways Save Our Shores has successfully led campaigns to help the welfare of our environment. For more information about Save Our Shores, visit their website or their Facebook page.
For more information on where to purchase eco-friendly recycled bags, and reusable shopping bags, you can visit Custom Earth Promos on their website or Facebook page. When communities get together and advocate with one voice, governments have no choice but to listen. With your help, positive changes for our environment are possible.
###