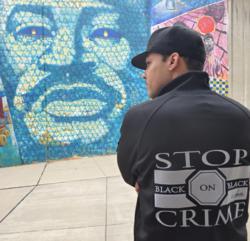 Vancouver (PRWEB) September 29, 2011
Jasiri X is already a household name in the Pittsburgh hip hop community, having won six Pittsburgh Hip Hop awards including Album of the Year for his debut LP, American History X, and Song of the Year for the politically charged single Free the Jena 6. More recently Jasiri X made news with his videos "I am Troy Davis (T.R.O.Y)" and "What if the Tea Party was Black". He's also been featured on BET's Rap City, and hosts the weekly online hip hop news program This Week with Jasiri X, now in its fourth successful season.
Although this will be Jasiri's first time to Canada he has performed from New York City to Berlin, Germany and various cities in between, including recently in front of 30,000 at the Our Communities Our Jobs Rally in Los Angeles. He has toured colleges and universities across the country presenting his innovative workshop, How to Succeed in Hip-Hop Without Selling Your Soul, and is working on a book of the same name. He also blogs for Jack and Jill Politics, Daveyd.com, and The Black Youth Project.
Based in Vancouver, BC, Wandering Worx Music was launched in October 2010 as the official record label of Wandering Worx Entertainment. The label's debut release, Rel!g!on's Revelationz 1, has already garnered critical acclaim, with the record's first single, Lucid, featuring Moka Only and E.D.G.E, in rotation on Much Music. The label also recently announced a project with Grammy Award Winning Producer Chin Injeti, who has collaborated with Kanye West, Drake and 50 Cent, in addition to producing two tracks on Eminem's Recovery.
###