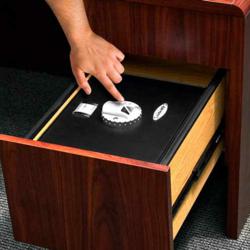 new dual hydraulic hinge allows for quick secure access to your valuables
La Verne, California (PRWEB) September 30, 2011
The new quick access biometric top opening drawer safe by Barska® features a new dual hydraulic pressurized hinge system. Barska biometric safes are well known for their quick access fingerprint scanning optical technology. This new dual hydraulic hinge allows for quick secure access to your valuables. The reinforced motorized dead bolt safe door can be effortlessly opened with one finger. The dual pressurized hydraulics insure that the solid safe door won't slam shut on one's fingers. This standard size drawer safe is a perfect fit for dresser drawer at home and in an office desk at work. Not limited to being stored away in a drawer the Barska top access safe can be mounted to any flat surface.
Need to give access to multiple users? The Barska quick access biometric drawer safe can store up to 30 different fingerprints. In an office environment, top-level managers can have quick access to important documents, petty cash and incase of emergency a handgun for protection. At home keeping one's valuables in a secure space is a must, but in a home with young children keeping firearms in a safe place is the law. Owners can grant access to only the adults in your family to ensure children don't access your firearms. Careless access to firearms can have dangerous consequences, be a reasonable handgun owner with Barska's new top access safe.
When it comes to home defense quick access to firearms will keep one's home well protected but many handgun owners don't keep a gun at their side when at home and many break-ins happen at night. When awakened by an intruder in the middle of the night the last thing you want to do is look around for a safe key in the dark or remember a complex combination. With the Barska biometric safe owners can go directly to their firearms and have access to them in three seconds with the simple scan of a finger. The Barska biometric drawer safe uses very little power and can last up to two years on 4 AA batteries, which are included.
BARSKA®, with corporate offices, warehouse and distribution in La Verne, CA (Southern California), is a worldwide biometric safe company with strong brand recognition in the sport optics and safe industry. BARSKA® offers an extensive line of biometric safe products ranging from large biometric rifle safes to compact handgun safes. BARSKA® is committed to delivering a superior quality product at an affordable price to our customers around the world. For more information, please call BARSKA at 1-909-445-8168, or visit them online at http://www.barska.com.
###