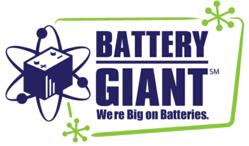 "As an independent business owner, it's me against the world. With Battery Giant I have resources", says Ray Cutway, Franchise store owner.
Sterling Heights, Michigan (PRWEB) September 30, 2011
Battery Giant is excited to announce the moving of its first retail store from Sterling Heights, Michigan to a new high profile location in November. The store will be relocated to 575512 Mile Rd at Mound in the Heritage Village shopping plaza in Warren, Michigan. The phone number - 586-838-4555 - will remain the same. The timing for the move is perfect for store owner, Ray Cutway, as Battery Giant continues to expand retail operations in its third successful year in business. Cutway, a veteran expert in the battery industry has been around since the beginning of Battery Giant, having had the privilege of working closely with CEO, Kurt H. Smith to provide input into building the franchise business model.
With a vision to expand into the emerging battery franchise market, the close working relationship between Smith and Cutway led to an offer by Smith for Cutway to partner with Battery Giant and purchase the first retail store, which he did in a heartbeat. "After being in small business for almost 30 years I knew the business climate had drastically changed. The day of the mom and pop stores are long gone. Today, you need to align your business with someone or something bigger than yourself. That's where Battery Giant came in. I had known Kurt for several years prior to Battery Giant. I saw what he did with Energy Products and I saw the investment that he was making in Battery Giant", says Cutway.
Cutway, originally from the Toledo, Ohio area has been in the battery business full-time since 1979. He started working at his uncle's battery business as a sales person and it was such a good fit for him that he never looked back. When he decided to partner with Battery Giant in April 2009, he was so impressed with Smith and Battery Giant that In addition to his first location, Cutway also purchased a Southfield, Michigan location on 12 Mile and Telegraph Rd, and is constantly evaluating other future locations for his Battery Giant enterprise. "As an independent business owner, it's me against the world. With Battery Giant I have resources. Synergies have been created that weren't there before. I am an independent franchise but I am not in it alone", states Cutway.
Headquartered in Sterling Heights, Michigan, Battery Giant currently operates several franchised retail locations in Michigan, Illinois, Arizona, Florida and Ohio. Battery Giant carries a wide range of replacement batteries and products for over 100,000 electronic devices, plus offers an electrifying business opportunity for franchise ownership in the ever-expanding battery market. With more than a decade of service in retail battery sales, wholesale distribution, telecom engineering, stand-by power systems, and mobile equipment power, Battery Giant provides the most innovative and cost-effective solutions along with fast, friendly and knowledgeable customer service.
For more information about Battery Giant and our energizing franchise opportunities, visit our website at http://www.batterygiant.com or call Greg Danziger, President, at 586-446-9502, ext. 243.
###