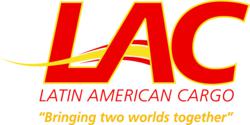 By using their specialization in Latin American culture, geography, businesses and markets, clients would be able to rely on LAC for much more than just shipping.
Staten Island, NY (PRWEB) September 30, 2011
While shipping, freighting and transport to and from Latin America will always be the backbone of Latin American Cargo (LAC), their new venture with business development has been growing strong. Having started in spring of 2011, this new branch of LAC has been picking up steam with their clients and partners.
The principle that led Latin American Cargo to evolve their focus into the new realm of Business Development is a simple one: Help Clients Succeed. By using their specialization in Latin American culture, geography, businesses and markets, clients would be able to rely on LAC for much more than just shipping. By being a consultant locally or a researcher and representative in new prospective markets, the LAC team excels at making a business plan work for their clients. The new services from LAC have been well received and are expanding on schedule.
This Business Development service has been a huge success already with long standing clients having sought the expertise of LAC already. This new program has acted as a 'value added' service which clients can access when and how they feel like. This level of versatility and ease of access means clients can seek out these services when they feel their ventures are doing well and they wish to maximize on the opportunity or when business is slowing down and want help from outside expertise. As a new business venture for LAC this program has been and looks to be sustainable and they plan to continue ahead with its development.
One other added value to linking services between shipping and business development that helped this program succeed over the summer is that Latin American Cargo would already be intimately involved with a large portion of their clients business. There is no need to pay someone to waste time relearning shipping details, distribution points and routes. Likewise the intimacy LAC has within Peru, Brazil, and Mexico among others allows them to know where businesses are booming or shrinking, local worries or wants, and where and how to best integrate any given product or service.
Integrated service is a rising trend among businesses. Technologies are merging devices and companies are merging services. This method, which Latin American Cargo has been using with their Business Development model, is known to increase efficiency and reduce costs. Why go to two places when you can get the job done with one? This is especially true where the company in question, like LAC, still keeps its focus and specialization, in this case specializing in Latin American trade and business. By being true to its goals and principles LAC has successfully expanded to new areas and would suggest other businesses do the same without compromising what defines them.
This recent success for Latin American Cargo has reinforced their idea that clients want this kind of service and are expanding their Business Development Department appropriately. This means more employees ready to help any client wishing to get consulting and develop their business and plan. With LAC paying employees based on their success and the success of clients, there are huge incentives to bring the best results to those under LAC care. There are more plans for LAC to reinvent themselves in the future and create just the services clients desire, and those will be unveiled as time allows.
Latin American Cargo has had a successful decade of shipping and logistics services. The achievements of the last ten years have been due in part to their strong desire to continually improve their service and reputation for excellence. This new venture of theirs, while successful, is one of many steps towards creating a better business. This can be done only by listening to the desires of the client, and when they said they wanted a Business Development branch, Latin American Cargo delivered.
About LAC
Latin American Cargo (LAC) is a shipping and freighting company specializing in shipments going to and from different areas in Latin America. They are experienced with air, sea and ground transport. Their Mexfreight division, short for Mexico Freight, handles almost exclusively the transport to and from Mexico and acts primarily as a road transportation service. LAC has recently launched an informative video series and has developed a Business Consulting branch.
###