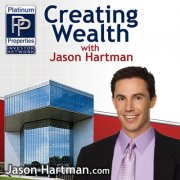 "If you took every household in the country and they ran a deficit of a thousand dollars a month, that's equivalent to what's going on in the federal deficit right now," said Amerman.
Irvine, CA (PRWEB) September 30, 2011
During episode 217, Jason Hartman interviews chartered financial analyst Daniel Amerman on his popular podcast The Creating Wealth Show. Hartman and Amerman discuss the likely outcome of the recent multi-trillion dollar increase in the debt limit and the idea of turning inflation into profit for savvy investors.
Amerman believes that the real economic problem is that the private economy has not rebounded. The private economy fell by $1.3 trillion in a period of months while government spending simultaneously rose by $1 trillion. While private economy fell and the public economy surged, between the two it was only a small drop. As such, the heart of the problem is lack of recovery in the private economy.
"If you took every household in the country and they ran a deficit of a thousand dollars a month, that's equivalent to what's going on in the federal deficit right now," explains Amerman. As long as the federal government is creating an extra trillion dollars a year deficit on top of what was already a problematic deficit of $450 billion in 2008, the U.S. is going to be at an extraordinary level of government spending.
"What we're seeing with the deficit limit was more or a less a surface cover-up of the symptom of the problem," said Amerman. "The real problem isn't the deficits themselves. It's the astronomical rate at which the U.S. is racking up new debt."
Hartman and Amerman further discuss the effect of inflation on the nation's 'savers'—it's the average person who has spent decades saving and working hard who gets devastated. Amerman recommends focusing on the simple domestic plays—hard assets that generate cash flow. In other words, income property which can be borrowed against if necessary.
Amerman is convinced that too many promises and too much paper wealth chasing with few real resources will likely lead to substantial inflation in the years ahead. Years of studying the costs of paying for over $100 trillion of U.S. government retirement promises, as well as the costs of cashing out an expected $44 trillion of Baby Boomer pensions and retirement accounts, lead to his hypotheses. This all points to potentially devastating implications for many savers and investors. A problem that also applies to many other nations.
Amerman believes there is a basic economic principle that much of the public is unaware of—inflation doesn't directly destroy the real wealth of goods and services, but rather, redistributes the rights to that real wealth. Unfortunately, this principle will most likely destroy much of the investment wealth that Baby Boomers plan on enjoying in retirement.
A financial author and speaker with over 25 years of professional experience, Amerman's books Mortgage Securities and Collateralized Mortgage Obligations, are known for their innovative, easy to understand approach to complex and somewhat controversial conclusions. Amerman spent much of the 1980s as an investment banker helping Savings & Loans and others try to survive the effects of the last major bout of inflation in the United States. He has authored the Turning Inflation Into Wealth series and worked with the effects of billions of dollars of such wealth redistributions—witnessing how there was not only a loser for each dollar of wealth redistributed but a winner.
Jason Hartman's The Creating Wealth Show has featured many recognizable names in recent years including Robert Kiyosaki (Rich Dad, Poor Dad), Harry Dent (The Great Depression Ahead), Michael Gerber (The E-Myth Revisited), Thomas Sowell (The Housing Boom and Bust), Thomas Woods (Meltdown), Pat Buchanan (author and presidential candidate), Michael Munger (gubernatorial candidate, North Carolina), Addison Wiggin (Empire of Debt with Bill Bonner) and many others. The Creating Wealth Show is available for free on http://www.JasonHartman.com/podcast/ or the iTunes store—offering investment strategy advice to those who wish to be financially independent through income property investing.
About Jason Hartman
One of America's foremost experts on long-term wealth creation through income property, Jason Hartman is the founder and CEO of Platinum Properties Investor Network, The Hartman Media Company, Open Door Auctions and The Jason Hartman Foundation. In 1997, Hartman realized his entrepreneurial dream and turned around a struggling real estate brokerage firm that he later sold to Coldwell Banker. Since then, he's combined his dedication and business talents to become a successful entrepreneur, public speaker and author.
Under the Platinum Properties Investor Network, Hartman's Complete Solution for Real Estate Investors™ is a comprehensive system providing real estate investors with education, research, resources and technology to handle all areas of their income property investment needs. As a media personality, Hartman's highly sought after educational events, speaking engagements and his acclaimed "Creating Wealth" radio show inspire and empower hundreds of thousands of people in 26 countries worldwide. For information, call 714-820-4200 or visit Jason Hartman online.
###