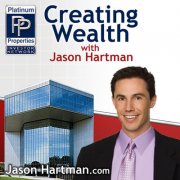 Young people cost everything and produce almost nothing. High productivity actually reduces inflation, states Harry Dent.
Irvine, CA (PRWEB) September 30, 2011
Jason Hartman, host of The Creating Wealth Show, features best-selling author and demographic economist, Harry Dent, during podcast episode 75 of his popular podcast. Harry Dent, author of The Great Depression Ahead, explains the 'Dent Method,' a long-term economic forecasting tool based on demographics. Dent has made predictions based on this method—most of which have come true. The 'Dent Method' takes indicators most economists never even look at because most economists are only focused on the short term trends, which are very difficult to predict.
"Long term trends are easy to see," says Dent. "The baby boom was driving all of the new trends; this created a whole new way to analyze the cycles."
With regard to demographic tendencies, "Peak earning years are at age 46 and peak spending years are between 46 and 50," said Dent. He explains that because their children tend to leave the "nest" at that point, spending goes dramatically down and they begin to save what they have left for retirement.
During the show, Dent speaks on inflation and the role the younger generation plays in causing it to exist. "Young people cost everything and produce almost nothing. High productivity actually reduces inflation," states Dent. Contrary to this statement, Dent also explains that as the workforce contracts, it is deflationary, resulting in the overall fall in housing prices.
Dent goes on to address the current housing collapse at the conclusion of the interview. He believes that housing, when adjusted for inflation, has actually been very flat; however, during the bubble, housing appreciation doubled. Dent states that he understood the nature of this housing bubble and predicted it would eventually pop. "Where was your house priced in year 2000?" asks Dent. "That is where housing prices will most likely fall to during this correction."
Harry Dent, expert economist and author, has published many books on this subject. His latest book, The Great Crash Ahead: Strategies for a World Turned Upside Down was released on September 20, 2011.
Jason Hartman's Creating Wealth Show has featured many recognizable names in recent years including Robert Kiyosaki (Rich Dad, Poor Dad), Michael Gerber (The E-Myth Revisited), Thomas Sowell (The Housing Boom and Bust), Thomas Woods (Meltdown), Pat Buchanan (presidential candidate), Michael Munger (gubernatorial candidate, North Carolina), Addison Wiggin (Empire of Debt with Bill Bonner) and many others. The Creating Wealth Show is available for free on http://www.JasonHartman.com/podcast/ or the iTunes store—offering investment strategy advice to those who wish to be financially independent through income property investing.
About Jason Hartman
One of America's foremost experts on long-term wealth creation through income property, Jason Hartman is the founder and CEO of Platinum Properties Investor Network, The Hartman Media Company, Open Door Auctions and The Jason Hartman Foundation. In 1997, Hartman realized his entrepreneurial dream and turned around a struggling real estate brokerage firm that he later sold to Coldwell Banker. Since then, he's combined his dedication and business talents to become a successful entrepreneur, public speaker and author.
Under the Platinum Properties Investor Network, Hartman's Complete Solution for Real Estate Investors™ is a comprehensive system providing real estate investors with education, research, resources and technology to handle all areas of their income property investment needs. As a media personality, Hartman's highly sought after educational events, speaking engagements and his acclaimed "Creating Wealth" radio show inspire and empower hundreds of thousands of people in 26 countries worldwide. For information, call 714-820-4200 or visit Jason Hartman online.
###