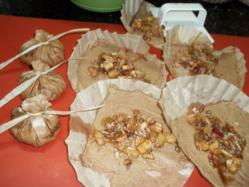 Sweet Tamales a Delightful, Easy to Make Dessert
Corpus Christi, TX (PRWEB) September 30, 2011
Mex-Sales Co. Announces Tamale Spreader inspired Sweet Tamales a delight for any party. Sweet tamale dough and an easy fruit filling are the simple ingredients needed to make this dessert.
Everybody wants to make Sweet Tamales but they have always been a mystery. Well it was because grandma never wrote down her recipes she just knew by heart the perfect ingredients to make delicious sweet tamale. So many hands full of this and that and a pinch of salt and more ingredients. Learning a few simple recipes can help make better sweet tamales. Add a special touch by substituting brown sugar in place of regular sugar or adding more or less spices.
"Once upon a time tamales were made of meat only, but today Sweet Tamales are considered a sweet delightful dessert," says Sandra Vasquez, Inventor of the Tamale Masa Spreader.
The best tamale making process is on line just log onto TamaleSpreader.com. The website has step by step instruction video clips. It also has recipes for masa to make four to sixteen dozen authentic Mexican tamales using lard or oil and fresh masa or masa harina. Please forward any additional recipe help inquires to info(at)mex-sales(dot)com.
Delicious sweet tamales for dessert are easy to make. Below is the recipe for the sweet tamale dough and a simple fruit filling.
Sweet Tamales
Sweet Tamale Filling
1 large apple diced with pealing, 1 2 oz. package pecans in pieces, 1 6 oz can pineapple tidbits, drained, ½ cup golden raisins (or plain raisins), 1 cup mozzarella, cheese, ½ cup brown sugar, ½ cup coconut flakes (optional), Pinch of salt.
Place all ingredients in a large bowl and mix. Mix and toss until blended.
Sweet Tamale Dough
2 cups Masa Harina, 1 cup sugar, 1/2 cup vegetable oil, 2 cups warm water, 1 tbs vanilla,1 pinch salt , 1 tbs baking powder, 24 round coffee filters, 24 ties cooking twine or pieces of cornhusks, Makes 2 dozen (24 tamales)
Using a large bowl mix masa harina and sugar, then add water and mix until a dough is formed with a consistency of thick batter. Measure oil in a large cup, add vanilla and salt. Then, mix until ingredients dissolve in the oil. Add oil mixture to masa and mix all ingredients until blended. Add baking powder and let dough rest for 5 minutes. Spread dough onto round coffee filters using a tamale spreader. Fill with your favorite fruit filling. Roll by gathering all edges to center then tie. Steam cook in rice steamer for 30 minutes.
###