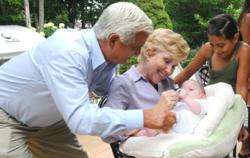 There's no need to reposition your baby with Babee Laptime's new infant carrier, just gently pass your carrier to a relative while your baby rests in a comfortable position!
(PRWEB) September 30, 2011
The demand for the new baby seat by Babee Laptime has only increased. Anthony Garofalo, owner and creator of the fine product, has been invited by numerous media figures, including Bill Rogers, to feature the benefits of his modern baby seat. Finally, Babee Laptime is expanding its distribution from coast to coast by partnering with the appropriate National Retail Corporation. "We have been having a steady increase in demand for the product. With our new partnership with a National Retailer, anyone can find this amazing infant carrier from coast to coast," says Garofalo.
The media has responded very favorably in the last year to Babee Laptime. Garofalo has been interviewed by Bill Rogers. The interview will be featured on The Welcome Home Show and will be broadcasted on networks throughout the states. Babee Laptime is also scheduled for a one-hour interview with radio personality Rebecca Michi. The discussion is aimed at showing how this baby seat allows for a stronger parent-child bond from the enhanced interaction with your baby, proper baby feeding at the 30-45 degree angle recommended by physicians, as well as a reduction in colic and acid reflux infants. A parenting radio show, The Rebecca Michi Show airs weekly on KKNW 1150 AM at 2 p.m. on Mondays.
Numerous national baby product providers have reached out to Babee Laptime in order to partner with the company. The new baby seat has been designed to sooth the baby while making the parents' lives a bit easier. It features a very efficiently designed waist-strap that allows parents to tend to their baby in the carrier seat while their hands are free to do as they please, whether it's reading a magazine or talking on the phone. It's also so easy to use that even younger family members can handle the baby seat, essentially promoting family bonding. The large retail distributors have taken note of Babee Laptime, as they have hit the ground running, and now they are bidding on who will be the national distributor of Babee Laptime.
Babee Laptime is recommended for infants weighing as much as 21 pounds and up to 30 inches in length. The fabric is also removable and machine washable, making for your baby seat to feel soft like new every time. For more information about Babee Laptime please call Infant Affection LLC at 1-866-LAPTIME.
###