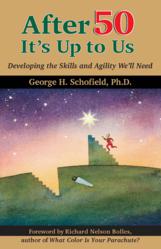 Life after 50 will require some healthy reinvention.
Lakewood Ranch, Fla. (PRWEB) September 30, 2011
George H. Schofield, PhD is the author of "After 50 It's Up To Us: Developing The Skills And Agility We'll Need". A recognized expert in aging and employment, Schofield stresses that planning will be essential, the pace of world change is accelerating, and no person's life happens entirely according to plan.
"After 50 It's Up To Us" is about the skills and personal adaptability people need for successful aging, a high quality of life, great relationships, and personal satisfaction as they create their best possible futures
According to Schofield, thriving beyond the age of 50 requires developing new skills. Flexibility in dealing with change will be key. Being able to work with our own aging instead of against our own aging is essential for successful lifelong personal development.
For more information, visit http://georgeschofield.com or call Benjamin Gioia at 347-870-6502
About George H. Schofield, PhD
George H. Schofield, PhD, is an expert on successful aging, an author/speaker, magazine columnist, entrepreneur, and consultant. He is a thought leader in aging and employment, intersecting realities in our changing world.
George is the founding principal of New Bright Life (newbrightlife.com), an education company helping people create successful, thriving lives in a rapidly changing world, even when dealing with the challenges of life after 50.
George is the founding principal of The Clarity Group (clarity-group.com), an innovative business consultancy firm. He has been senior consultant for a multinational consulting company, worked in banking and finance, and was vice president at Bank of America in San Francisco.
His magazine columns can be found at redroom.com/member/george-h-schofield in company with other best-selling authors.
George is faculty at the University of South Florida, and is an active member of the following: the national Society of Psychologists in Management (SPIM), The Association for Psychological Science, the Life Planning Network, the Lakewood Ranch Business Alliance, the Manatee Chamber of Commerce, and the Sarasota Chamber of Commerce.
He is a past two-term President of the Advisory Council to the Commission on Aging and Adult Services for San Francisco (City and County) and past President of the Area Agency on Aging Advisory Council of California (TACC), a communication bridge among thirty-four state commissions on aging and adult services.
George is a former member of the advisory council to the Business School at the University of San Francisco.
Contact:
Benjamin Gioia
Vice President
New Bright Life, LLC
347-870-6502
ben(at)newbrightlife(dot)com
http://newbrightlife.com
# # #