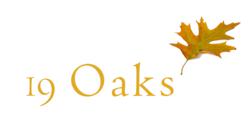 Portland, Maine (PRWEB) September 30, 2011
Starting a company to support local businesses during the height of a recession might sound like a scary proposition, but one Maine company, 19 Oaks, is finding that it was exactly the right choice to make.
"19 Oaks has a really different approach for meeting the marketing needs of the companies we work with", explains co-founder Jeff Ryan. "We don't try to develop a list of deliverables such as website, brochures and PR. Rather, we look at each company's business challenges, then develop a plan around how to meet those needs. Often times, we can devise a plan that can be built in stages, so we can drive business that not only contributes to the bottom line, but to the next phase of marketing. It's a really smart way to go."
With more than 35 years of marketing experience between them for companies ranging from one-person start-ups to Fortune 500® corporations, co-founders Ryan and Shay Bellas bring highly strategic mindsets to their work. "We have a proven ability to see down the road and help businesses build a path to getting there", says Bellas. "One of the most rewarding aspects of our business is seeing a client's face light up when they realize -- wow, these two really do understand my business."
Since its inception in 2009, 19 Oaks has provided a full range of creative services including brand strategy, naming (both companies and products), logo development, brochures and sales kits, PR, website content and design, e-mail campaigns, trade show promotion and social media services. They also have developed a proprietary scheduling tool that helps keep everything running smoothly.
"We assemble the right team for each job, set them loose to do great work, then dismantle the team when the job is complete. This keeps overhead down and client costs low as a result", says Ryan.
Once clients have a strategic plan and highly effective marketing materials, they commonly begin looking for sales support. That's where the sister company of 19 Oaks comes in. Custom Sales Team, Inc. matches sales professionals with companies that need sales support. "Because 19 Oaks fully understands our client's company, products and service offerings, we can offer precisely the right candidates for the job from our stable of over 35 sales professionals", says Bellas. "Having an experienced sales professional that is enthused about the product is an advantage for any business of any size, and we excel at providing one."
For more information, visit http://www.19oaks.com or http://www.customsalesteam.com.
Founded in 2009, 19 Oaks, LLC is a full service strategic marketing firm located in Portland, Maine. Their capabilities include naming, logo development, website design and content, e-mail campaigns, social media, trade show promotions and PR. They are located at 795 Congress Street, Portland, ME 04102.
###