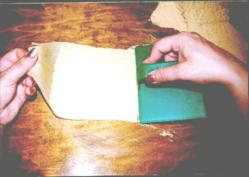 A tamale masa spreader is the key instrument to spread a dozen of cornhusks in just one minute.
(PRWEB) September 30, 2011
Mex-Sales Co., Announces New Tamale Masa Spreader key instrument to make Tamales. All tamale makers need this hotter than a tamale special gadget that facilitates the spreading of tamale. But why do tamale makers need one, because spreading twelve cornhusks in one minute is easy to master.
"A perfect spread of dough is accomplished with just one quick and easy stroke and anyone can master masa spreading in just a few minutes." "Tamale makers report spreading a dozen cornhusks a minute," says Sandra Vasquez, Inventor of the Tamale Masa Spreader.
The Tamale Masa Spreader is equipped with tracks and angles, which are instrumental features to an even spread. The tracks contain the masa and the angles gauge the thickness of the dough. Using the front end of the spreader pick up masa, place it on husk, lock in place, and slide down towards the end of the husk. The thickness is controlled by the amount of pressure you apply at the angles.
Having a Tamalada soon and want to learn how to use the tamale spreader and make tamales. Then learn from a pro at TamaleSpreader.com. The website has Tamale recipes and is the best guide for that big batch of dough and step by step video clip instruction on how to make tamales from start to finish. Please forward any additional recipe help inquires to info(at)mex-sales(dot)com.
The Tamale Masa Spreader and an easy recipe are key elements to mass produce great tasting tamales. Enjoy making more tamales and spreading masa fast and easy.
###