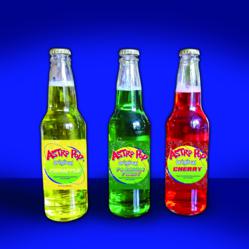 We decided to give Garvey Nut and Candy many of our new products to distribute exclusively for their initial releases because we loved the way they take care of their customers.
Irvine, CA (PRWEB) September 30, 2011
With just a little over a month to go before Halloween, it's time to start getting really excited about candy. Where to go to pick up the best selection? Try Garvey Nut & Candy, the largest West Coast manufacturers and distributors for nuts and candies, warehousing over 14,000 candy items, as well as nuts, dried fruit and trail mixes at its main headquarters in Pico Rivera, CA.
"Holy Candy Mecca" is what one of the many consumers describes the Garvey Candy Company, which was established in 1985 after Jelly Belly® inventor David Klein sold the company to current CEO Steve Corri for one dollar. It's the perfect stop for kids and adults alike who share a love of the classic candies and are yearning to try new ones.
In addition to distributing bulk candy classics such as candy corn, gummy bears and Reese's Peanut Butter Cups which are again expected to be favorites in the goody bags of 'trick or treaters' across the United States, Garvey also carries some unique, new candy items that weren't available in last year's Halloween candy stashes.
One of the new items is Farts Candy™ from Leaf Brands, LLC. Farts Candy™ are flavorful chewy candy nuggets in all kinds of fruity flavors that are so fun they'll make you laugh!™ The little bumpy, candy shell pieces with a nice, chewy texture, are a perfect candy to toss into your mouth any time you like, and have been compared to The Nestle Company's Nerds® candies, but are reputed to be more chewy and flavorful. Available in 1.25 ounce individual packs as well as in bulk, Farts Candy will be available in select retail stores in December and come in 12 flavors including a Fruiti Farts assortment, Sour Farts assortment, plus 10 individual flavors: Pina Colada, Sour Watermelon, Sour Apple, Root Beer, Grape, Strawberry, Blue Raspberry, Black Cherry, Tangerine, and Lemonade.
Garvey also sell Spanks™, launched by Jelly Belly® inventor David Klein's current candy company, Can You Imagine That! Spanks™ are sour, chewy candy balls in assorted tangy, fruit flavors such as cherry, tangerine, lemonade, green apple, and grape. Unlike other sour candies, Spanks™ first hits you with the right amount of zingy, sour flavor in the first few seconds of slipping it in your mouth. Then it perfectly mellows and leaves you wanting for more. It's the appropriate sour taste you crave! The special 'Whacked-out' Sour™ coating spanks your senses silly (for a sec!) but quickly mellows just in time, giving the perfect combo that's sweet on the inside but oh, so super sour on the outside.
"We decided to give Garvey Nut and Candy many of our new products to distribute exclusively for their initial releases because we loved the way they take care of their customers. They're an honest bunch and we firmly believe they will do an excellent job with our products," said Ellia Kassoff, the CEO of Leaf Brands. "They have a great strategy and really nurture the relationships with us. In-fact, they will be the first company in the nation to distribute the re-release of Astro Pops® when they come out shortly," Kassoff goes on.
As if the candy isn't enough for your 'trick or treaters,' Garvey also distributes the sweetest collection of retro and nostalgic soda pops in the world. Among Garvey's soda pop collection include exclusives such as Astro Pops® sodas which launched this year and are available in the three original Astro Pops® flavors we love: Pineapple, Passion Fruit and Cherry. The real fun is mixing all three flavors together, creating your own Astro Pop®! They also sell Americana, Avery's, Nesbitt's.
According to the National Confectioners Association (NCA), sales of candy typically peak during the last two weeks before Halloween, and ninety percent of parents say they sneak a taste of goodies from their children's Halloween bags.
About Leaf Brands, LLC: The original LEAF Brands were started in the 1920's. LEAF Brands, once the fourth largest candy producer in North America, brought candy classics such as Whoppers® and Jolly Rancher® to the marketplace. Members of the Leaf family have assembled together once again to revive the Leaf name and its famous image after the US division was sold to The Hershey Corporation in 1996 and left the United States. Products include Astro Pops®, Yummers!™, Farts™ and David's Signature Beyond Gourmet™ products.
###