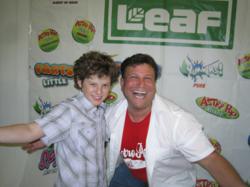 We really has such an amazing response from our second gifting room opportunity. So many famous people came by and sampled our product, many staying to do on-camera interviews!
Irvine, CA (PRWEB) September 30, 2011
Modern Family actors Nolan Gould, Rico Rodriguez, Aubrey Anderson-Emmons, and Ariel Winter couldn't wait to return to the Leaf Brands booth gifting suite for the Emmy's. After first discovering both Farts Candy™ and the Astro Pops® sodas at the Teen Choice Awards suite a month earlier, it has become a favorite for the Emmy winners.
"We really has such an amazing response from our second gifting room opportunity. So many famous people came by and sampled our product, many staying to do on-camera interviews!" said Ellia Kassoff, CEO of Leaf Brands, LLC. "We were really excited to see most of the Modern Family kids making a 'b-line' for our products after attending the last gifting suite we had for the Teen Choice Awards. They stocked-up on Farts Candy™, Sour Spanks™ and Astro Pop® sodas. It really made us feel great after hearing how their families also loved our product," Kassoff added. "In-fact, based on many of the comments from the stars, we are now going to sell Farts Candy in individual bulk form. Everyone enjoyed the selection of candy jars with all the different flavors and insisted we sell it that way," Kassoff also stated.
Farts Candy™ are flavorful chewy candy nuggets in all kinds of fruity flavors that are so fun they'll make you laugh!™ The little bumpy, candy shell pieces with a nice, chewy texture, are a perfect candy to toss into your mouth any time you like, and have been compared to The Nestle Company's Nerds® candies, but are reputed to be more chewy and flavorful.
Available in 1.75 ounce individual packs as well as in bulk, Farts Candy will be available in select retail stores in December and come in 12 flavors including a Fruiti Farts™ assortment, Sour Farts™ assortment, and 10 individual flavors: Pina Colada, Sour Watermelon, Sour Apple, Root Beer, Grape, Strawberry, Blue Raspberry, Black Cherry, Tangerine, and Lemonade.
The Astro Pops® sodas are available in the three original flavors of the iconic lollipop: Pineapple, Passion Fruit and Cherry. The real fun is mixing all three flavors together, creating your own Astro Pop®! Suggested retail price is $1.99 for a 12 oz. bottle and is currently exclusively available at RocketFizz stores.
Farts Candy™ and Astro Pop® sodas also caught the attention of the more seasoned celeb set at the Emmy suite, including Tony-award winning actor, dancer and singer Ben Vereen, '70s heartthrob Scott Baio, and The Brady Bunch's Barry Williams who played oldest son, Greg.
According to Leaf Brands CEO Ellia Kassoff, "Farts really resonates with kids of all ages because you can't help but giggle and smile when you hear it. Kids love the name! The most important thing we started with was an amazing candy product that David Klein and his company developed; next we came-up with the great name." Moreover, Kassoff added, "The candy colors are so vibrant; they invite you to taste all the different flavors."
These juicy flavors will be packaged in 4 different varieties – Fruiti and Sour plus various single flavors and Small Farts™ and Natural Farts™.
Fruiti Farts Candy™: Mixed juicy little pieces of chewy goodness that will give you all the fruit flavors you crave.
Sour Farts Candy™: Intense, sour pieces that will make you pucker!
Small Farts Candy™: Itty, bitty smaller candy pieces that look like sprinkles. Use them for cupcake toppings for that added oomph taste!
Natural Farts™: Coming soon and will have both natural flavor and natural colors.
About Leaf Brands, LLC: The original LEAF Brands were started in the 1920's. LEAF Brands, once the fourth largest candy producer in North America, brought candy classics such as Whoppers® and Jolly Rancher® to the marketplace. Members of the Leaf family have assembled together once again to revive the Leaf name and its famous image after the US division was sold to The Hershey Corporation in 1996 and left the United States. Products include Astro Pops®, Yummers!™, Farts™ and David's Signature Beyond Gourmet™ products.
# # #