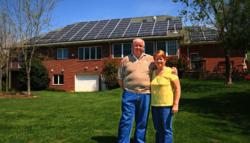 With 100,000 workers employed by nearly 5,000 companies, the spirit and job-creating prowess of solar is alive and well in America
Boulder, CO (PRWEB) September 30, 2011
Thousands of home and business owners from 43 states are taking it to the streets to explore the ways solar-savvy Americans are recouping their tax dollars, improving property values, slashing utility bills and creating jobs during the American Solar Energy Society's (ASES) 16th Annual National Solar Tour, the world's largest grassroots solar event.
The event features open house tours of energy-efficient homes and businesses that are bringing their owners ample economic and environmental rewards. With higher panel efficiencies, lower price tags, versatile new products and a treasure trove of domestic market incentives, today's solar solutions are as much an economic play as an environmental one.
"From Alaska to Florida and another 41 states in between, this cascade of solar tours leaves little doubt that with 100,000 workers employed by nearly 5,000 companies, the spirit and job-creating prowess of solar is alive and well in America," said ASES National Solar Tour Manager Joel Moore.
"Sure, there are market disappointments like recent solar headliner Solyndra," continued Moore, "but as one of the fastest growing industry sectors in America, solar is bringing substantial economic benefits to homes, businesses and public agencies across the nation. Truth is, in 2010, America was a $2 billion net exporter of solar products. That's the kind of headline we're working to see more of."
The tours – made possible by Enphase Energy, Trina Solar and Delta Energy Systems -- give consumers a glimpse at the variety of solar solutions available in today's marketplace, from traditional roof-mount, vertical solar and building-integrated PV to solar water heating, gazebos -- even solar trees that fuel electric vehicles.
"We're in the business of solar, but we're also in the business of educating. That's what this tour is about," said Mississippi Solar's Carolyn Hegman, whose Down on the Farm solar tour is becoming a perennial favorite. "There are so many myths we're battling, like there's not enough sunshine to make solar viable – or that solar is just a fad. But solar can really change the life of a poultry farmer, who has astronomical electric bills, particularly during hot Mississippi summers," she said. "So far, production has exceeded our projections."
Not only do most solar solutions qualify for a 30% federal tax credit, many states provide cash incentives to reduce the costs of solar for homes and businesses.
Further contributing to the solar ROI illustrated during the tour is a recent study out of the University of California San Diego that finds roof-top solar panels don't just provide clean power, they shelter household rooftops, keeping them five degrees cooler in summer and warmer in the winter. This cuts down on year-round cooling *and* heating costs.
And the U.S. EPA reports in the Appraisal Journal that a home's value increases by $20 for every $1 decrease in annual electricity bills. Homeowners who install solar on existing houses get nearly three times the premium of homeowners whose new house came adorned with solar.
"These tours are an effective way for folks interested in solar to see first-hand how solar works, while speaking with licensed, qualified professionals who can educate them on installation processes and the many incentives today's solar PV, solar water heating and energy efficiency solutions deliver," said tour host and San Diego Renewable Energy Society Chair Steve Johnston.
"Many of the solar-equipped homes on this year's tour are seeing electric bills reduced by 80 to 100 percent," Johnston added. "It's a prudent investment that brings homeowners, schools and businesses economic and environmental returns for decades. It's also a win for our contractors and installers. You can't, after all, export a solar installation job."
ABOUT THE AMERICAN SOLAR ENERGY SOCIETY: Established in 1954, the non-profit American Solar Energy Society (ASES) is the nation's first association of solar professionals and grassroots advocates. Supported by more than 10,000 members, ASES advances research, education, and policy. ASES publishes the award-winning SOLAR TODAY magazine, presents the National Solar Conference and leads the National Solar Tour – the world's largest grassroots solar event. http://www.ases.org.
###