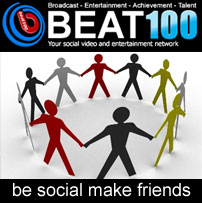 We want our users to be able to have the maximum amount of fun whilst on BEAT100"
Los Angeles (PRWEB) September 30, 2011
The new Social Networking site that has it all, BEAT100.com is delighted to announce the launch of their brand new games section, a fully interactive system that allows BEAT100 users to be entertained by hundreds of easy to play games. Users can now choose games from a variety of categories including: Sport, Puzzle, Adventure and Action. In addition to this BEAT100 members will have the opportunity to get in touch with their competitive streak in Multi player mode!
Multi player mode will allow users to compete with one another for top spot on BEAT100's scoreboard and interact live with other users. The release of the Games Section is all part of BEAT100's dedication to being the best Social Video Entertainment Network.
"This is a little something extra for our members. We want our users to be able to have the maximum amount of fun whilst on BEAT100"
Games such as patience testers Bucket ball 2, This is the only Level and Galaxoball, are another opportunity for BEAT100's users to interact with their network in a fun and competitive environment. Other popular online games available at BEAT100.com include; Ghost hunter and Nekosaga. With games that will appeal to people of all interests and ages, BEAT100.com is the perfect place for you to challenge your friends to a strategic battle when playing the world's hardest game or enjoy classic style shoot 'em ups like Starmageddon.
BEAT100 also offers it users the chance to enter monthly music and lifestyle video charts for the chance to win cash, share statuses, chat live with friends and share multimedia through our unique social networking experience.
Beat100 is a completely exclusive concept that is free and easy to use and by far the most exciting website on the internet.
###