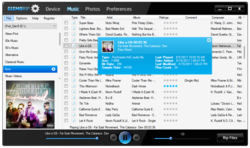 GizmoRip can rip the music, photos, videos and playlists from any iPhone, iPod, or iPad onto any PC not just the PC with the original iTunes installation
Grand Prarie, TX (PRWEB) September 30, 2011
With Gizmorip4.0, iPhone and iPod users can now backup their music, playlists , photos, albums, and videos from their devices. Gizmorip can rip and re-import music and playlists from your iPod, iPhone, iPod Touch, or iPad into iTunes or anywhere on any PC. GizmoRip 4.0 is fully compatible with iTunes 10.1.
GizmoRip 4.0 adds the ability to backup/re-import photos and photo albums as PNG, JPG, TIF, BMP, or GIF files.
Unlike PC based data backup applications, GizmoRip can be used after the PC crashes or is stolen because it can backup from your iPod or iPhone to any PC. No need to worry if you lose your hard drive or your laptop is stolen.
Users can save time and money when upgrading to a new PC. GizmoRip eliminates the need to re-download music from the iTunes store or rip CDs again just because you get a new PC. With Gizmorip, users can reimport their music collection directly from their iPhone or iPod.
Anton Webber, President of Gizmoquip LLC said "There are many people who lose a hard drive or their laptop gets stolen causing the loss of their entire music and video collection with it. Of course they can re-download using iTunes, but that doesn't recover music or movies from other sources such as their CD or DVD collection. GizmoRip solves this problem by allowing people to re-import the music from the iPod or iPhone back to the new PC. GizmoRip can rip the music, photos, videos and playlists from any iPhone, iPod, or iPad onto any PC not just the PC with the original iTunes installation."
GizmoRip 4.0 is available for an introductory special price of $9.95
Gizmoquip LLC is a Texas based software company that specializes in developing software products and services for mobile devices including IOS ( iPhone, iPod and iPad ) and Android phones and tablets.
###