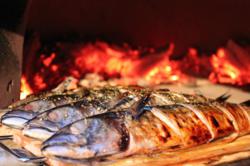 A wood fired oven is great for all year round use
(PRWEB) September 30, 2011
Competitively priced, the award winning British company, designs and hand casts a range of high quality wood fired pizza ovens for commercial and at home use.
Bringing wood fired cooking to the masses, the Stone Bake Oven Company boasts an impressive selection of quality pizza ovens for sale, which are perfect for alfresco dining.
With wood fired cooking fast becoming the number one most desired way to entertain friends and family this year, many are re-inventing their kitchen and boosting their culinary inspiration.
Not just for the summertime either, "a wood fired oven is great for all year round use," says Tom Gozney the company founder, "it's a reason for a party and the reason to stay in, my wood fired oven has leased new life into the way I cook."
It's understandable why wood fired ovens are so popular, with the ability to bake, roast, grill, sear and cook just about anything, whilst utilising the natural energy of burning wood, whatever the weather, the Stone Bake range of wood fired ovens can be installed both indoors and outdoors for mouth- watering wood fired delicacies all year round.
Able to cook an authentic Neapolitan pizza in less than 90 seconds, and capable of specialty bread baking, melt-in-your-mouth roasts and much more, inspire and re-invent your kitchen this autumn and change the way you entertain forever.
Available in a range of sizes to suit your requirements and budget, the Stone Bake Oven range is great when cooking for one, for a party, right through to commercial catering with their range of restaurant wood fired ovens. With prices starting at just £599 the Stone Bake Oven Company have brought the luxury of wood fired cooking to all, for everyone to experience.
###