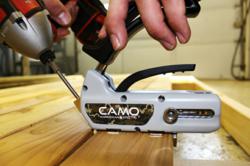 We are going to unveil some pretty cool new CAMO products.
Grand Rapids, MI (PRWEB) September 30, 2011
On October 13-15, 2011, National Nail Corp.'s CAMO Fasteners will be exhibiting at the 2011 DeckExpo in Chicago, IL at the Lakeside Center, McCormick Place. CAMO will be featured in Booth #2643.
CAMO, a Pro-Fit® brand, is the first hidden deck fastening system that easily and affordably attaches treated lumber, hardwood, cedar, composite or PVC deckboards directly to the substructure creating a beautiful, fastener-free deck surface.
"We are highly anticipating this year's DeckExpo," said Scott Baker, President and CEO of National Nail Corp. "It is our first time exhibiting at the show, and we are going to unveil some pretty cool new CAMO products."
A new addition to the CAMO line is the CAMO Marksman™ Pro-NB, specially designed for installing narrow deckboards with widths of 3-1/4" to 5". This heavy-duty contractor grade tool features clamps to grip the deckboard and dual screw guides to fasten both sides of the board with single tool placement. The Marksman Pro-NB will be available to demo at the CAMO booth and is expected in retail stores later this fall.
CAMO is a sponsor of DeckExpo's Deck Workshop hosted by renowned builder Mike Guertin. The Deck Workshop runs during exhibit hall hours on Thursday, Friday and Saturday and includes multiple action-oriented, hands-on presentations focusing on critical issues occurring on deck-building jobsites. CAMO will be shown during the Grooved Deckboard Fastening Systems presentation which will be a 45 minute segment each day of the show.
CAMO can also be seen at DeckExpo's Wood Pavilion where it is being used to install 1000sqft of Pressure-Treated Pine, Cedar and Redwood decking. CAMO will be featured at the VEKAdeck™ Booth #2031 where it is being used to install the deckboards of the booth.
For more information, please visit http://www.camofasteners.com or call 1-800-968-6245 ext. 2134. Click here to "Like" CAMO Fasteners on Facebook and keep up with CAMO news, stories, photos and events. In addition, visit the Video Gallery on the CAMO website to view over 10 helpful Installation Videos ranging from installation by board material to 45 degree angle installation.
National Nail Corp., headquartered in Grand Rapids, Mich., is an employee-owned manufacturer and distributor of high quality, innovative building products and service solutions for the residential and commercial construction industries. Other National Nail brands include Pro-Fit® Fasteners, STINGER® Cap Systems and Impressions Storm Doors and Windows.
# # #