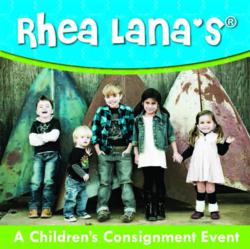 Conway, AR (PRWEB) September 30, 2011
Rhea Lana's Children's Consignment, Inc. is "The Nation's Premiere Children's Consignment Event Venue" and has experienced incredible growth since the company began selling franchises in 2008. Currently, the company holds 47 semi-annual consignment events in 16 states, and continues to grow as more families are discovering the value of this amazing business opportunity.
The Minnetonka franchise is owned by June Sonsalla and Denise Engebretson, and they are excited to be bringing this consignment event to the Twin Cities area. "Rhea Lana's of Minnetonka is a seasonal upscale children's consignment event that helps local mom's stretch their family budget by providing a place for them to sell their gently-used children's items!" says June Sonsalla. "The consignment events take aim at providing value to area mothers in today's challenging economic climate."
The Minnetonka event will be held on September 29-October 1, at 11525 Excelsior Blvd in Minnetonka.
The Mannatee (Florida) franchise is owned by Jill Clulow. This is first Rhea Lana Event to the Manatee County area and will conclude with the donation of baby and maternity items to Solve Maternity Home and children's clothing, toys and supplies to the Manatee One-Stop Clothing Closet. These local non-profit organizations help families in need of children's items. "The recent economic downturn has increased demand for consigned family merchandise. It has also put a strain on local nonprofits," says Jill Clulow. "The Manatee Fall Rhea Lana's Event offers Manatee and Sarasota area residents the opportunity to sell children's clothing, toys, or furniture. It also provides a setting for families to purchase unused or gently used, high quality family goods at deep discounts."
The Mannatee event will be held on October 5-8, at the Cortez Village Square Plaza, 6690 Cortez Road West in Bradenton, FL.
During the month of October, there will be Rhea Lana's events taking place across the country, including Missouri, Oklahoma, Texas, Florida, and Indiana. For more information on the Minnetonka and Manatee events, or to find a sale near you, please visit http://www.rhealana.com.
About Rhea Lana's Children's Consignment Events
With Arkansas roots, Rhea Lana's Children's Consignment Inc. is rapidly growing with 47 locations in 16 states. Founded by Rhea Lana Riner in her living room 14 years ago and headquartered in Conway, Arkansas, Rhea Lana's Children's Consignment hosts semi-annual sales. The company is the first consignment sale in the country to offer on-line management and real time tracking of merchandise through a computerized inventory system and a convenient mobile application.
Riner has been featured in numerous publications including The High Profile Section, Arkansas Democrat Gazette and Women's Inc Magazine. She has recently won a prestigious national award by Enterprising Women, a national publication and foundation that honors entrepreneurial women with rapidly growing companies who seek to mentor other women in business. In the 2010 report from Franchise Business Review on Child Service Related Franchises, Rhea Lana's Children's Consignment, Inc. ranked in the Top 10 nationally. Also, Rhea Lana's Children's Consignment, Inc. was ranked number two out of only ten Arkansas companies to be added to Inc. Magazine's 5000 list of fastest growing privately held companies.
###