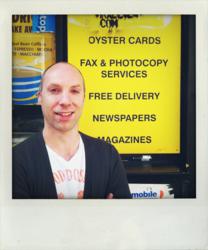 The BSME Awards are the only UK awards run by magazine editors, for magazine editors celebrating outstanding achievement in the magazine industry.
(PRWEB UK) 30 September 2011
Simon Campbell, Group Art Director at award-winning strategic content agency Seven, has been shortlisted for the BSME Business Art Director of the Year at the BSME Awards 2011. Simon, who was also shortlisted in 2009, has been selected for his outstanding work on CIMA's Financial Management magazine this year.
One of seven finalists shortlisted for the prestigious award, Simon has been shortlisted alongside other creative heavyweights, including: Jeannine Saba, DIPLOMAT magazine, Envoy Media; John Rooney for E&T magazine, The Institute of Engineering and Technology; Simon Esterson – Eye, Eye Magazine Ltd; Finnie Finn – I, Redwood; Gene Cornelius – Management Today, Haymarket, and Chris Parker for What's Next magazine, John Brown.
The BSME Awards are the only UK awards run by magazine editors, for magazine editors celebrating outstanding achievement in the magazine industry. The winners will be revealed at the annual BSME Awards Dinner at The London Hilton on Tuesday 8 November 2011.
A total of 183,000 copies of Financial Management magazine are distributed to members of the Chartered Institute of Management Accountants in 168 countries. The premier journal for management accountants worldwide, Seven's brief was to reposition the magazine as a modern, mainstream global business title, and to give it an identity reflecting that. The magazine also needed to be distinct from CIMA's own brand, but would look at home alongside their vast range of company literature and stand its ground against the many newsstand business magazine and newspapers its members read.
Simon's fresh creative approach has been key in achieving this. As content is centred around in-depth, intense and sometimes dry financial information, visual solutions are essential, so to offset the text-heavy nature of business content, Simon developed a unique, image-led philosophy.
A visual-heavy template was developed that allowed speedy design but gave the pages individuality and flexibility. Rigorous, appealing typography and grid structure helped create a magazine that is produced to tight deadlines, while allowing for dynamic, attractive and engaging layouts.
All the visuals are original commissions by Simon, allowing him to bring the content to life with its own bespoke feel. Illustration and infographics play a vital role; concepts can range from the broad to the incredibly specific and from the obviously exciting to the not particularly thrilling. Simon's job is to bring them all to life in the most appealing and exciting way, and carefully commissioned illustrations can solve very tricky problems. The award-winning Noma Bar is a regular contributor and created the first cover. Simon has also used the cream of the world's illustrators such as Wilfrid Wood, who created a unique clay model accountant, as well as developing new talent such as Borja Bonaque and Dmitry Litvin.
Simon's non-stop creativity and close collaboration with the Financial Management editorial team help make this magazine truly successful – and on brand.
Notes to editors
About Seven
Seven is an award-winning strategic content agency. Experts in creating intelligent, relevant and effective content across multiple channels, including magazines websites, social media, interactive ezines, video, iPhone and iPad apps.
Clients of Seven include Virgin, Sainsbury's, CIMA, English Heritage, Grant Thornton, Guardian Media Group, Lloyds Banking Group, New Look and Waterstone's.
For further information: http://www.seven.co.uk or contact Shareena Ali, PR, Shareena(dot)ali(at)seven(dot)co(dot)uk 020 7775 5549.
# # #