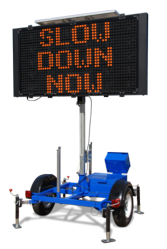 Message Center 360's customizable amber LED characters on a 4' x 8' area are legible at up to 1,000 feet.
Plano, TX (PRWEB) September 30, 2011
A message sign that rotates and locks into position is featured on the new Message Center 360 traffic sign recently introduced by Stalker Radar, The World Leader in Speed Measurement. The innovative design allows the mast to raise, lower, pivot, and lock for easier towing, setup, and positioning.
Orienting the Message Center 360 trailer for optimal sign positioning is no longer critical. Now it can be parked in any orientation that is easiest - or safest - for trailer. Afterward, the message sign is raised from its travel position, then rotated and locked into its final position.
The Message Center 360, along with Stalker's other two traffic signs, Speed Awareness Monitor (SAM) and Variable Message Sign (VMS), is ideally suited for selective deployment in areas where speed control, special message communication, or other feedback to motorists is required or desirable.
Message Center 360's customizable amber LED characters on a 4' x 8' area are legible at up to 1,000 feet. The operator can input their own message through the onboard computer and full-size QWERTY keyboard, or choose from 250+ previously input messages, or select from a library of 60 factory preprogrammed messages.
Message Center 360 features:

Stalker Ka-Band Doppler Radar.
4D deep-cycle batteries which provide up to 21 days of continuous operation yielding longer time between battery charges.
Optional features include:

Statistical package that gathers valuable traffic data for improved grant writing support and verification of the sign's impact on traffic speeds.
Top-mounted solar panel that recharges a day's worth of battery use with only 4.0 hours or less of sunlight allowing for "infinite" field operation.
Stalker Radar is the World Leader in Speed Measurement. Law enforcement organizations, professional sports teams, and manufacturers around the globe requiring state of the art speed measurement applications look to Stalker Radar products for the utmost in quality and value.
# # #