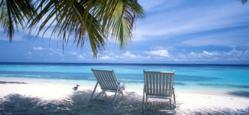 I am honestly surprised it hasn't caught on sooner, it has made a lot of sense for us personally living in Mexico
Tulum, Mexico (PRWEB) September 30, 2011
First things first, how is your nest egg looking these days? For most Americans nearing retirement, investments and pension funds have been greatly reduced over the last few years thanks to the financial and housing market meltdowns. So where does a Baby Boomer turn now when it's time to retire and the funds aren't what they used to be? There are a growing number of Americans and Canadians finding their way south of the border these days and it is with good reason. According to the folks at Gringos in Paradise it's a move that makes real financial sense and the weather is great too.
Most people have a definite perception that life in Mexico is cheaper and it is for the most part. Excluding tourist zones like Cancun, Cabo San Lucas, Puerto Vallarta and other well traveled tourist areas, once you get outside those areas, even just a few miles, you will find the rumors of big savings to be true. Food costs in Mexico as compared to the US and Canada are 30-40% less. Real estate in Mexico is also 20-40% cheaper in comparable markets and can be much better than that depending on location and title terms. Gas prices have also remained stable in Mexico over the last 4 years at just under $3 a gallon. Mexico has the world's 3rd largest oil reserves and is a member of OPEC. There's more to it than even those enticing savings.
For example, quality American style health insurance in Mexico is at least 50% less than what you would pay for the same coverage in the US! The only catch is you must live in Mexico at least 6 months of the year to realize those kinds of savings. The reason for this disparity in pricing according to IMG (International Medical Group), and other international insurance carriers is the net cost of care in Mexico. As an example a heart attack in the US could cost you over ten thousand dollars just for immediate care, in Mexico the same emergency would cost 80-90% less. The advantages of quality international healthcare expand beyond the borders of Mexico and patients still enjoy the benefits of specialists and potential long term care in their home countries. These healthcare savings alone are enough to entice many folks to move to Mexico.
Gringos In Paradise has seen a recent spike in traffic and interest from people thinking about making the move. Speaking with Larry Crowsen, co-founder of the website, "I am honestly surprised it hasn't caught on sooner, it has made a lot of sense for us personally living in Mexico and it's been a lot of fun showing other people how to do it and save money too…I definitely don't miss the cold weather and snow shoveling ."
If you are interested in learning more about life in Mexico and resources for how you may actually be able to do it yourself make sure you visit http://www.gringosinparadise.com.mx.
# # #