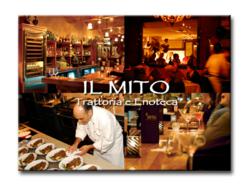 it warms my heart to celebrate this special day...
Milwaukee, WI (PRWEB) September 30, 2011
Celebrity Chef Michael Feker, along with IL MITO's service and culinary teams, are celebrating their five year culinary birthday on Thursday, October 27 at 7 pm. Feker shall host an unparalleled celebration where guests will enjoy a three-course dinner with complementing wines, personally created by Feker as a thank you for their support. Guests will also learn from the expertise from one of Wisconsin's great wine sommeliers. "I opened the original IL MITO in LA, love and opportunity brought me to Milwaukee, and now it warms my heart to celebrate this special day with my family, my team and my guests, who are now my extended family. I am so grateful for their support," shared Feker.
IL MITO also offers full-service, on-site catering. Feker glows with a warmth of joy when explaining why Catering by IL MITO is so special to him; "I am always honored to be allowed to share in special events in people's lives. It is my mission to allow the host/hostess to be a guest at their own event." IL MITO offers menus of various cuisines, for example: Italian, Mediterranean, Latin, French, Middle Eastern etc and menus are created personally by Chef Feker to pamper palates and accommodate budgets.
Feker took his love for food one step further and created CMFs School of Culinary Magic, a Culinary Studio and a Chef's Counter adjacent to his restaurant where he personally hosts private dinners, beer and wine tastings, one-on-one, hands-on lessons with Chef Feker as well as TV filmings and much more: "I have been blessed with my passion for life that I manifest through food, but to be able to absorb more I need to share some. I do that at my Chef's Counter through my demonstrational and hands-on cooking classes. It is my mission to bring all back to the table, whether mine or theirs is irrelevant, as long as I have a chance to answer the complicated unknowns, and make cooking an accessible and joyful experience."
About Chef Feker and IL MITO
Michael Feker is an accomplished chef with more than 20 years experience, having studied abroad in Switzerland. He learned under the tutelage of renowned chef Roberto Gerometta and has owned restaurants in Los Angeles, Milwaukee and in Wauwatosa. He specializes in traditional Italian cuisine and is also a culinary instructor, owning and operating the Culinary School of Magic, in Wauwatosa. With his vast culinary knowledge of the chemistry of foods of all cuisines, classical French training, world travels and experience, Chef Feker is a culinary innovator who can create Regional dishes to accommodate your palate and desires.
IL MITO is located in Wauwatosa at 6913 W. North Avenue. LUNCH is served Tuesday through Saturday 11am to 2pm; Sunday BRUNCH with Bloody Mary Bar 10am to 2pm; DINNER: Tuesday through Thursday 5 to10pm, Friday and Saturday 5pm to 11pm and Sunday 5pm to 9pm. IL MITO also offers full-service CATERING, private dinners, carry out and deliveries.
Reservations can be made online at ILMITO.com or by calling 414-443-1414.
Keep up to date on Twitter and Facebook at: http://twitter.com/cheffeker and http://www.facebook.com/pages/IL-MITO-ENOTECA/10304511
###