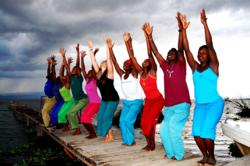 Englewood, CO (PRWEB) September 30, 2011
Denver-based yoga clothing company, be present, has engaged in a partnership with nonprofit 501c3 organization Africa Yoga Project. It is the vision of Africa Yoga Project to use the transformative power of yoga to empower communities in East Africa to foster peace and improve physical and emotional well-being. be present has joined together with Africa Yoga Project to provide clothing to support their mission and help raise awareness for the organization.
Africa Yoga Project is able to make progress towards its vision through employment of one of its core programs, called Baptiste Power Yoga in the Streets. This program begins by offering financial support to 38 yoga teachers, trained by Baron Baptiste in April of 2009, who take their knowledge into the streets, where yoga is taught to young, urban Kenyans. These teachers come from the slum areas in which they teach and as such, are able to reach the communities of East Africa in order to provide positive social change. This free, community yoga provides a healthy and motivational venue for young adults to engage with their community, build support systems, and ultimately change their lives. Many of these students live on less that $2 per day and are personally affected by HIV/AIDS. Africa Yoga Project has introduced yoga to hundreds and provided educational scholarships, job training, food stipends, housing and health services to these impoverished communities.
Paige Elenson, co-founder of Africa Yoga Project, with the help of Baron Baptiste, has actualized her vision to use the transformative power of yoga to uplift impoverished communities in Kenya. She has been living and serving in these communities since 2007 and has gained a deeper understanding of the difficulties faced in these areas. It has allowed her to better tap into the potential of the people residing there and bring the vision of Africa Yoga Project to life.
Most recently, Africa Yoga Project has announced the publication of a new book entitled "Portraits of Empowerment and Peace." It includes inspirational photographs and stories from the Kenyan yoga teachers that live and teach in the urban slums of Nairobi and the rural villages of Amboseli. To purchase the book or make a donation, please visit: http://www.africayogaproject.org.
be present, clothing for the yoga lifestyle, was established in Colorado in 2002 by Amy Lopatin Dobrin and Jon Dobrin. All be present clothing is proudly made in the USA. The brand remains at the forefront of the yoga apparel industry, continually designing clothing that is original and functional.
For additional information, please contact:
Maggie Mistovich
maggie(at)bepresent(dot)com
#303.228.4601
###